This shop has been compensated by Collective Bias, Inc. and its advertiser, MARS Incorporated. All opinions are mine alone. #SpookySavings #BOOItForward #CollectiveBias
Halloween is my kids' favorite holiday. So, it's time to make a Boo Halloween candy bucket!
Now to be fair, she has also said the same thing about St. Patrick's Day AND Valentine's Day at points in her life, so I'm certain she caught the Halloween spirit the way it has caught us all. In the heart. What's to love about holidays? For us, it's about the connections and the kindness. I also love a little element of surprise. Halloween is pretty epic around here. We always go crazy with costumes, parades, parties, and trick-or-treating. I start getting excited about Halloween in August!
And that's why we love Halloween. It's that element of surprise, and never knowing what's going to happen. That's why it's such fun to make a little something happen too! Cassidy is an Operations Manager of a small company and is always trying to think of fun things to do for his employees. I myself have employees now (SHOCKER) and we've been talking about how to BOO all of these wonderful people who help us out in our daily lives. Cassidy is such a crafty guy and I'm also inspired by my mom. She's been an art teacher for 40+ years so if there's someone to talk to in order to get good BOO ideas, it's her!
We got the idea to make personalized BOO Halloween Candy Buckets out of empty ice cream tubs.
We found inspiration at Sam's Club, of course. I think if you're going to be BOO'in in bulk, you need to make bulk purchases. These large packs of candy allow Sam's Club members to get BOO'ing essentials on a budget. You can't beat that! You can buy in bulk and save – and these packs come with a great variety of your favorite MARS® and Wrigley products. And, you can look for TWO specially marked Halloween Designed Bags. Personally, they make me so happy for my project!
So, it's a favorite craft for a favorite holiday!
What do you think? Will our employees and co-workers LOVE our fabulous BOO'ing kit. The MARS® Bat Bag is the perfect size to make a batch of these BOO Halloween bucket kits. And it has the perfect batch of candy for BOO'ing your loved ones!
Ready to shop for this awesome BOOtastic candy? Hover over the photo to click through to SamsClub.com to purchase!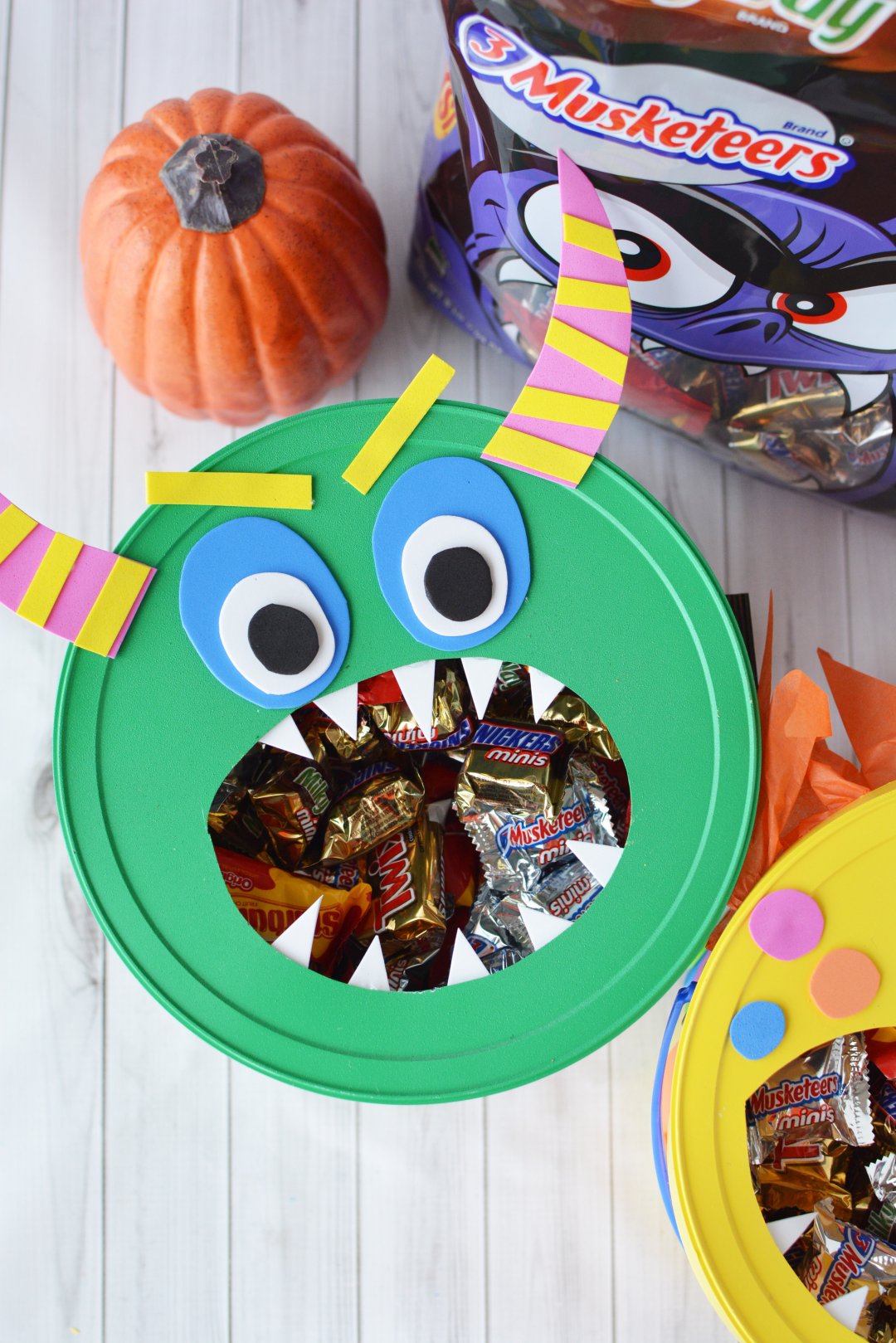 The people in our lives deserve a special treat. And I'm going to show you how to treat them!
Materials Needed:
Empty Ice Cream Bucket/Pail
Spray Paint (white and colors of your choice)
Wood Cutout Letter
Baker's Twine or Yarn
Foam Sheets
Tissue Paper
Hot Glue
White Glue
Scissors
Permanent Marker
Utility Knife
Large cardboard or sheets to protect your surface while spray painting
Directions:
Make sure you read all the directions for the spray paint on the can before painting. Be sure you are in a well ventilated area and allow for adequate drying between drying times.
1 – First, wash and dry the ice cream pail and lid. Remove the handle by gently pulling it off and setting it aside to reattach later.
2 – Next, use a permanent marker to draw a mouth shape on the inside of the pail lid. Make sure the mouth is big enough for your hand to fit through. Use a utility knife to cut out the mouth. Discard/recycle excess.
3 – Place your pail upside down and your lid right side up on a flat, covered surface and spray with white spray paint since this acts as a primer to cover the writing on your pail. Repeat with another coat if necessary, mainly hitting the printed spots the second time around. Let dry between each coat.
4 – Paint one pail the color of your choice and the other another color. I chose yellow and green. Apply 2 coats, if necessary, letting dry between each coat.
5 – Spray the wood cutout letters with orange spray paint and let dry.
6 – Cut out foam shapes with scissors. I chose circle shapes and angled rectangles for each of the 2 pails.
7 – Use foam and cut out shapes for eyes – one monster has 2 eyes and the other has 3. Add eyebrows and horns if desired.
8 – Cut out white triangles for teeth. Cut out letters and words for each pail. Use white glue to affix the foam to each other.
9 – Set the face onto the bucket to make sure it fits and looks as desired. Using hot glue, attach the foam pieces to the bucket and decorate your monster. Add text/words.
Then the fun decorating part!
10 – To add orange tissue paper hair, cut a 5″ piece of tissue paper the length of the tissue. Fold in half and in half again and cut points into the paper. Open the paper to have a flat edge at the bottom and points at the top. Scrunch the flat edge of the tissue paper across the edge of the pail and press it onto the brim of the pail. Place the lid on the pail and secure the tissue paper in place.
11 – Add baker's twine or yarn to the back of the wood cutout letter. Secure with hot glue. Attach one end of the handle onto the pail. Slide the wood cutout letter onto the handle and secure the 2nd side of the handle. Fill the bucket with candy.
And then have FUN BOO'ing your favorite people with your Boo Halloween Candy Bucket!
Now I have to know! Who will you BOO this year with MARS® and Wrigley products from Sam's Club?
So, have you made a BOO Halloween candy bucket yet?