This shop has been compensated by Collective Bias, Inc. and its advertiser. All opinions are mine alone. #CampbellsShortcutMeals #CollectiveBias
It's hard to fathom that we are only a few weeks from back-to-school time!
I went to Walmart this week to get organized with school supplies and recipe ingredients. I was specifically looking for Campbell Soup Company products – to make back-to-school recipes. For easy weeknights and recipe essentials.
Are you ready to shop for delicious Campbell Soup Company products for easy, back-to-school awesomeness? I thought so! Hover over the photo below to click through to Walmart.com to purchase them.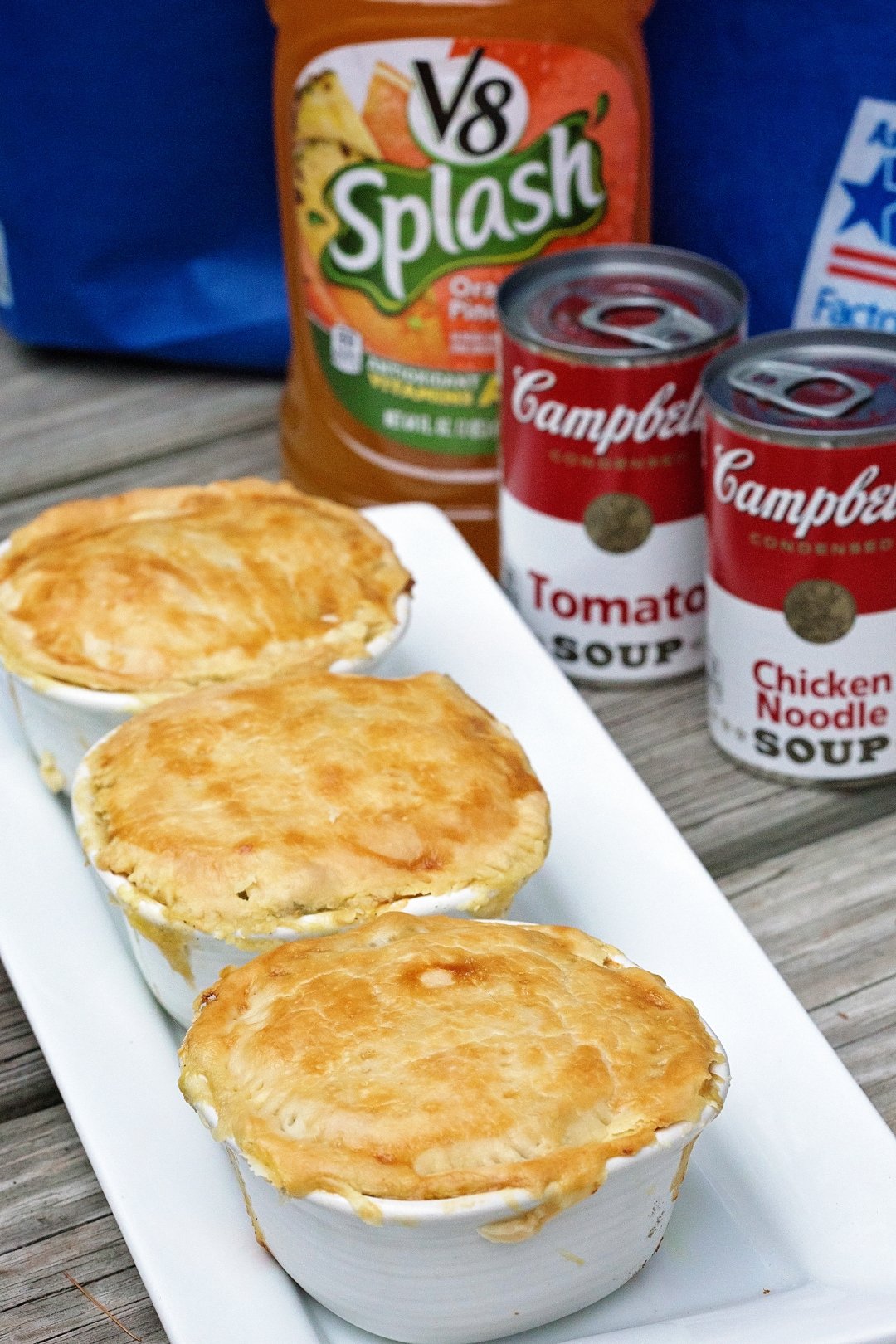 And really, it's already back-to-school time. This has been our quickest summer vacation I think I can ever recall. My kids were still in school until the end of June and this is the first time that they'll go back to school BEFORE Labor Day. It's unheard of in New England! We've been passing every milestone from June until now. Des graduated preschool, hot on the heels of his fifth birthday. Scarlet celebrated her eighth birthday, and then we headed to Cape Cod for our summer trip.
The thing is, I've been somewhat nervous for this particular back-to-school. With Des starting kindergarten and Scarlet starting third grade, it will be the first time I have two kids in one school. Two lunches to pack and two after-school schedules to manage. I'm someone who gets through some anxiety and apprehension with preparation and organization. It's how my brain works best! I'm already seeking back-to-school meal solutions, and I'm not just nervous – I'm excited for this opportunity to have two kids in the same school with the same drop-off and pick-up times. I'll use the new time wisely!
My schoolteacher brother inspired the recipe I have here today. He came to visit a few years ago and made dinner for all of us. He only had one kid at the time – my nephew, Andrew – but they'll be expecting their third this fall. I'd like to believe he will be making this amazing meal for his whole family. I can't make it without thinking of him! This is my favorite easy, quick weeknight meal – and I use the best of two worlds – chicken pot pies AND Campbell's® Condensed Chicken Noodle Soup – making Chicken NOODLE Pot Pies! Not only that, you can serve them in individual ramekins for a fun family experience.
YOU get a pie, and YOU get a pie, and everyone gets their own pie!
How do we manage a busy back to school schedule? We save time with Campbell Soup Company products. It's that easy. I head first to the juice aisle for V8 Splash®. There's a lineup of indulgent flavor blends that I feel good about, and it provides great taste and nutrients. Then, I head to the soup aisle to get my lifelong favorites – Campbell's® Condensed Tomato Soup and Campbell's® Condensed Chicken Noodle Soup. They taste great and nourish the whole family in all of the mouthwatering flavors I grew up with – and now my kids will too. I love that you can put your own twist to make it special for YOUR family.
And this is our special recipe. Who doesn't love pot pie?? (no one raises their hand) Plus, you get to have your individual ones for the family, really with minimal extra effort. This is a recipe we all four get excited for every time.
Individual Chicken Noodle Pot Pies
Ingredients
1 can

Campbell's®

Condensed Chicken Noodle Soup
1 package (two ct) of pie crust dough
1/2 can

Campbell's®

Condensed Cream of Celery
1 package frozen vegetables
1 cup celery, chopped
2 cups cubed cooked chicken (we use rotisserie)
1 egg
Salt & Pepper to taste
Instructions
1. Heat oven to 400ºF
2. Cut pie crust dough to line four ramekins and brush egg wash over it
3. Bake for 10 minutes
4. Cut four other pieces for the top of the pies
5. Meanwhile, cook celery, soups, frozen vegetables, and cooked chicken in a large skillet until bubbly and thawed
6. Add salt and pepper
7. Spoon mixture into ramekins and cover with remaining pie crust pieces
8. Brush tops with egg wash
9. Using a sharp knife, cut several slits in the top crusts
10. Bake for 25 minutes or until crust is golden brown
https://tamaracamerablog.com/individual-chicken-noodle-pot-pies/
So if your kids are already back to school, or if they're heading back to school – or TO SCHOOL FOR THE FIRST TIME (gulp, kindergarten), I'm arming you with all the right ideas and ingredients to make this time extra special for them, and extra easy for you! I think Cassidy is so good at cooking this meal, he can do all the prep in half the time that I can!
And it makes the house smell amazing!
Can't you see why?
Enjoy!