This shop has been compensated by Collective Bias, Inc. and its advertiser. All opinions are mine alone. #BigLotsHoliday #CollectiveBias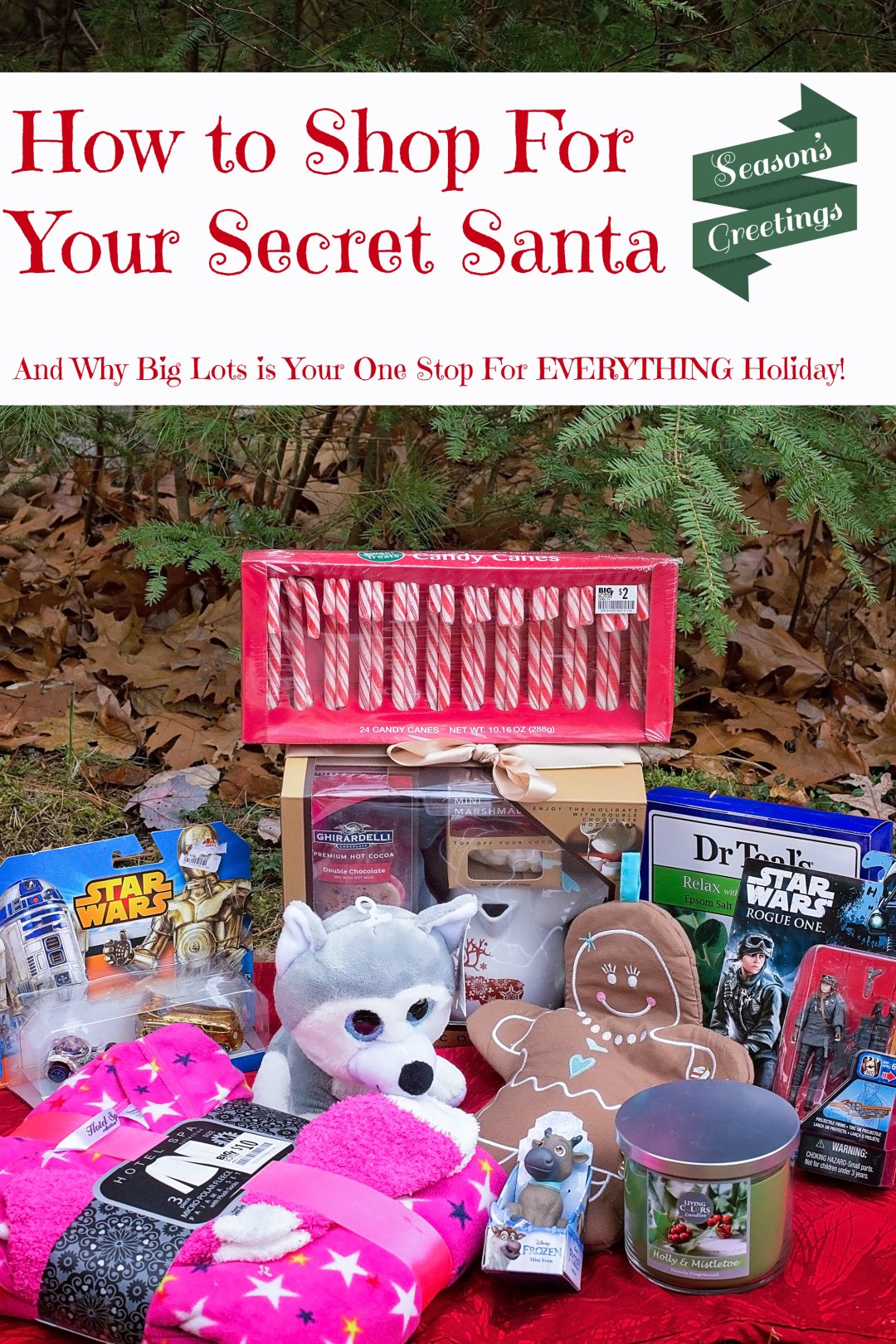 People. Big Lots ROCKS!
Have you ever had the pleasure of getting lost along the aisles – in between, all-around, even up and down? (not really up and down) It's the perfect one-stop shopping for Christmas gifts! When the holidays hit, we PARTY. Even though we're nestled on four acres of New England woods, and our nearest neighbors are bears, deer, and skunks, still we PARTY. I grew up in a blended family, full of chaos, fun, and love during the holidays. Now it's similar, although gift giving can be complicated.
I'm from one of five kids, so I learned long ago that we can't possibly afford Christmas presents for all family members, their spouses, and their kids. Not only that, we have our own kids, friends, neighbors and co-workers. We have pets too!
Always, I find myself involved in more than one Secret Santa gift exchange.
When you're thinking of early gift-giving, on-time gift-giving, and last-minute gift-giving for friends as family. If you're looking for wrapping paper and other gift-giving accessories. What if you're shopping for your co-worker, your kid's teacher, your dog, your mailman, your mother-in-law, and your uncle. The way you worry about having all of your gift-giving needs met. What if I told you it doesn't have to be hard? What if I told you there was one place for all your holiday shopping needs?
Tips For Shopping For Your Secret Santa:
#1 – Follow the rules! I know, I know. Rules are made to be broken. Although in these scenarios, if there's a set price, you want to stick to it. Otherwise you'll either look like you're trying to outshine everyone, or it will seem like you didn't put any heart or effort into the gift. You don't want to be the one to over or underspend. Just be thoughtful!
#2 – Be creative! No matter what name you draw in a Secret Santa, you always want to give a great gift. Being creative is the way to make a price limit still go a long way. There are so many options at Big Lots and you can have fun with this! Although there are many safe routes to go, you can also search for something extraordinary, but still within the limit.
I always like to get something that makes people do a double take!
#3 – Do your research! I always think this is the most fun part. Where to start? Well, that's the challenging part. I've certainly been known to use Google or someone's Facebook page to figure out their likes and dislikes! You can also talk to someone who knows them, which can work, but what if it spoils the Secret Santa surprise? The best solution is to talk to them. Just talk to them! Get to know them better. Maybe find out what their favorite place to eat is, or something they need. It's a balance to talk without seeming like you're prying, but that all points to being creative! (#2)
#4 – Be observant. I am better at this than I lead on. It goes with #3 that sometimes I even check old email threads for hints. I do think it's amazing what you can find out by people watching. Does someone constantly wear gloves with holes in them? Do they also love coffee creamer? Bear with me, here. You can find out so much just by casually observing the world around you.
So why not do it?
#5 – Good rules of thumb. Generally clothes are not a good idea since you can get someone's size or taste completely wrong. Unless you see it written on a wish list, in which case it's ok! Don't regift. This never leads to good things!
*Bonus tip – Go to Big Lots! You probably already knew that, though. The holiday season is just around the corner – which I can't believe – and Big Lots has you covered for all gift-giving needs. You can check every name off your list, and get great quality, name brands, and trend right items – all at a great value. Just look at these gems!
What is a shopping trip there like? Well the employees will talk to you about everything! They are helpful and friendly. The aisles are well-labeled, and all of the holiday sections think of everything, and I mean everything, you might need:
..and even some unexpected surprises!
Now, what are your best tips for shopping for a Secret Santa gift?