This shop has been compensated by Collective Bias, Inc. and its advertiser. All opinions are mine alone. #TeaProudly #CollectiveBias
Now, I like a fall bucket list as much as the next person!
Every year, we write one together. I think we all have individual fall bucket lists too. I like to use my weekends to schedule clients for fall foliage and holiday photos. I love road trips, apple pie with whipped cream, and to sometimes go up to northern New England to look for moose. The kids love the big New England States fair, our local jumping pillow, apple picking, Halloween decorating, corn mazes, mini golf, and to go for fall drives. They also like to go on moose expeditions.
I mean, naturally.
Fall is our time to shine. Winters are long and cold, but probably clean and shiny for many. Summers can be humid and buggy. Springs are often disappointing and rainy. Fall? It's never disappointing or rainy or humid or muggy buggy. Not in October, anyway. And as much as I value the addition of a fall bucket list into our family schedule, I noticed lately how much I value the little things even more. I am a work hard/play hard person. Even though I work nonstop at home, I make my own schedule and can enjoy so many experiences both on weekends and weekdays. It's the little pleasures, starting with the quiet time I have with a mug of hot tea and a good book. That's high on my list! Are you interested in a daily tea too?
You can check out MY favorite. Hover over the (below) photo to click through to Walmart.com to buy it!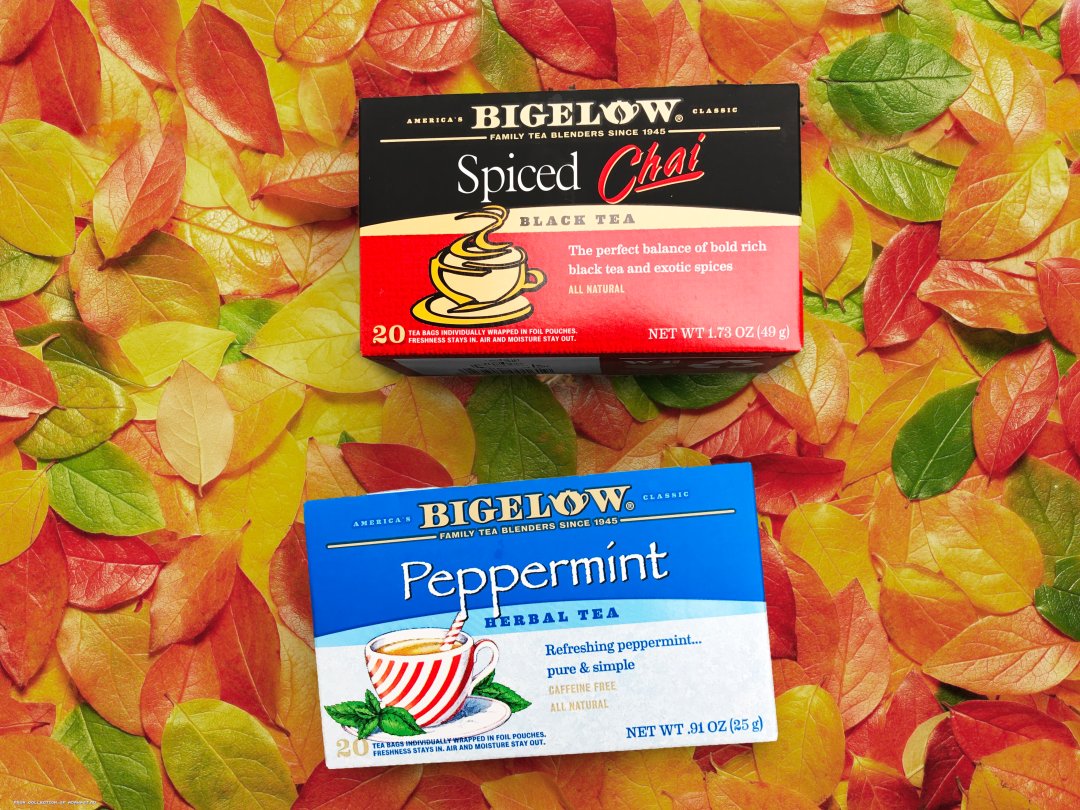 To me, and many others, fall is the season of "fresh starts." I love the big and the bold and the weekend plans, but it's also largely about our everyday lives. It's about clean slates in the mornings, and doing all the things that make us feel GREAT. It's about rituals and routines, and how to carve bits of happiness during hectic days. It's these five daily experiences:
1 – Everyday, I have a GREAT cup of tea, while sitting by myself in the quiet of a fall day. I take in the sounds of the birds still in New England, the sound of the breeze in the changing trees, and the whoosh of the distant traffic on the road.
My hair is dark brown and not purple but yay for creative iPhone colors?
There's a reason I Tea Proudly with Bigelow! It's so much more than drinking tea – it's an experience. It's warm and fuzzy and soul-soothing in the middle of a busy work day. I love that it allows me to pause and to connect with other people, and with time to myself as well. Bigelow Tea has always been my #1 choice of tea and I have so many memories associated with the colorful boxes and the varieties. And fall is a memory-making and a memory-keeping time of year. It involves all senses.
I easily find Bigelow at Walmart while I'm on my weekly shopping trips.
I also Tea Proudly with Bigelow because I love the company itself as they've been making tea for three generations, and I'm a sucker for a family company. It's also in the details – the foil packaging, freshness, US manufacturing, quality ingredients, and of course, the variety. There's a tea for every day of the week, and every type of weather and mood.
I also love how it sets the stage and welcomes my four other daily fall bucket list items into my morning.
2 – Everyday, I perform an act of kindness. It gives me a glow I take throughout my whole day. And there doesn't have to be a limit on doing something kind only once, but it has to be at least once. The sky is the limit to what you want to do.
3 – Everyday, I make healthy comfort food for myself. 'Tis the season and all. You all know I crave ice cream every day of spring and summer, but my fall and winter craving is for soup. The ultimate comfort food! I also add healthy sides.
4 – Everyday, I go for a cool mid-morning power walk with my dog. I got pretty behind on this during the humid summer days, especially with kids around all summer. I need my exercise peace and I know my dog does better because of it too.
5 – Everyday, I take the time to appreciate these moments. Fall is the most magical season. I've always been a warm weather girl, but notice how I've never stayed too far from places with four distinct seasons! There's a reason for that.
What's on your fall daily bucket list? Stay connected to Bigelow on Facebook, Twitter, and Instagram!
Enjoy those everyday moments!