This shop has been compensated by Collective Bias, Inc. and its advertiser. All opinions are mine alone. #TeaProudly #CollectiveBias
Boy, what a weekend, huh?
I'm only sad it went so fast. It started with a bang on Wednesday. The kids had half days, but I had to stay home and finish work until the last minute. Then we enjoyed a peaceful Thanksgiving in Connecticut and I enjoyed sleeping in a bed again! If you remember, we've been doing master bedroom and bathroom renovations for ages. On Friday, we got our 18-foot tree and decorated it to the nines. On Saturday, we went to the town holiday parade and I dressed like a moose! The day ended with finding out that my sister had her baby, Emersyn Jane! Don't worry – you know I will be writing about ALL of that soon.
All of that fun, loving, busy family time brings me to my next point. Last night I had the worst case of Sunday-Night-Itis. I just wanted all of the glorious and warm things from the weekend. All of that possibility. Holiday weekends are tough to let go of for me. Then I realized I could turn this into a positive thing. It's been fun, but loud. It's been amazing, but crowded. And it's been uplifting, but busy. Monday mornings have their own brand of busy – like school drop-offs and deadlines – but my reward is calling from the afternoon. And it's reminding me what I have to look forward to – today and always.
Connections. And you can have that experience too. Are you also interested in a hot cup of fragrant Bigelow Tea this fall season? You can hover over the photo (below) to click through to Walmart.com and buy it. Just like that!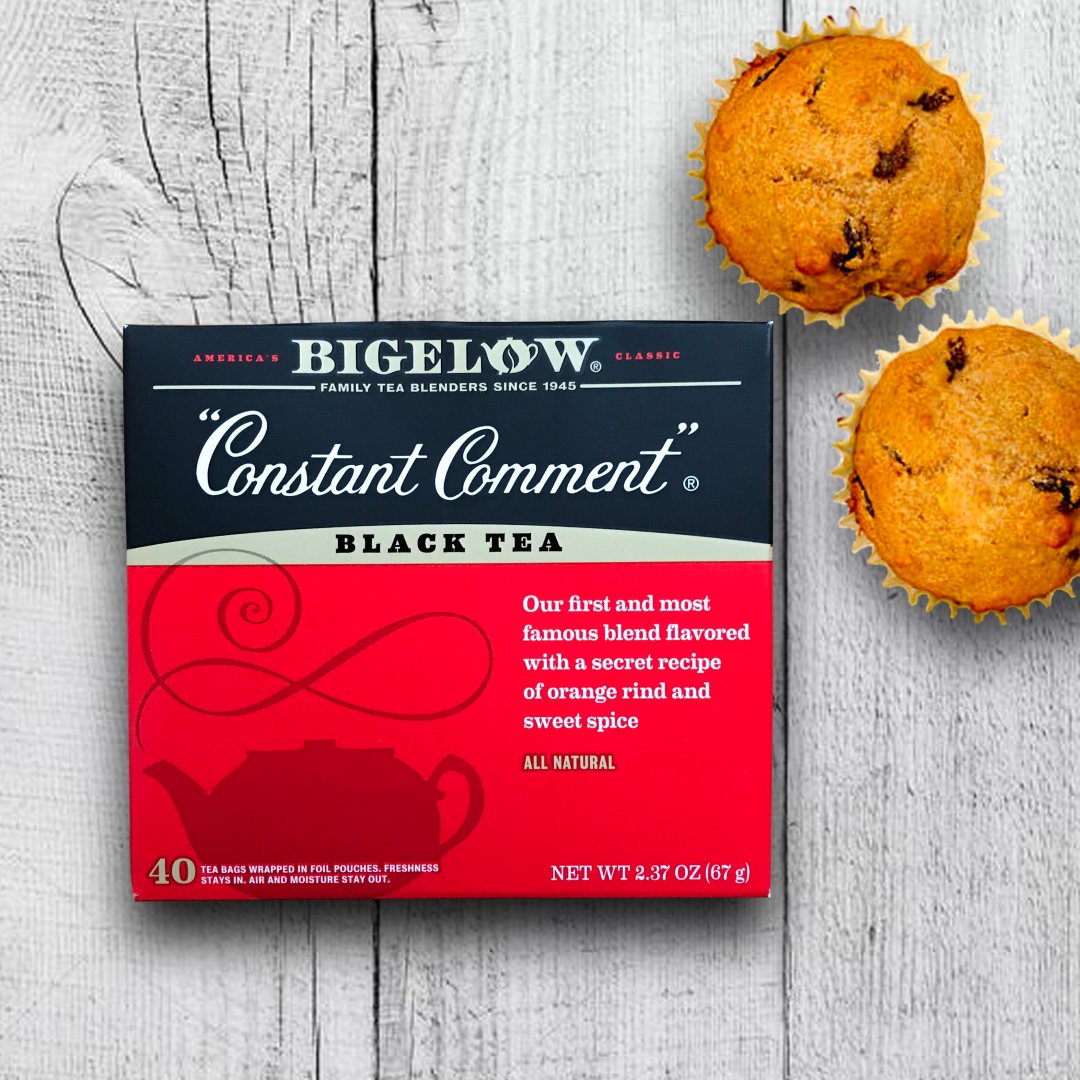 Maybe this can be something pretty fantastic. A little ritual for you? A snack break? A chance to invite someone over for tea and muffins, or a chance to stop by with a box of tea and a homemade recipe. Just this past weekend, FOUR people I love gave birth. That's a wonderful chance to connect during the weekday afternoons. And it doesn't require much. Think about this. It's still Thanksgiving leftovers time! And what's something you might have left over that you can still use? Canned pumpkin! These muffins are divine. They're warm and cozy and perfectly paired with Bigelow Tea. Full of fruit and spice!
This is my time to celebrate the afternoon – and taking pride in even the little things. Little comforts like a hot cup of tea and an awesome recipe. My pumpkin apple muffins are simple and brilliant – and they pair perfectly with Constant Comment. Bigelow has always been my tea of choice, and with Bigelow as my tea of choice, Constant Comment is my variety of choice. There's just something about it. If you drink it, you know it! I get mine at Walmart in the tea aisle.
How do you Tea Proudly? For me, it's with my favorite muffins and a book, curled up by the fireplace. And mainly, it's about taking that space to do something for myself, and either with myself or with a loved one too. I like to Tea Proudly every afternoon – right around that time when I'm itching for a break. My recipe is done and smelling amazing by tea time:
Ingredients
2.5 cups flour
2 cups granulated sugar
1 tsp baking soda
1 tsp cinnamon
1/2 tsp ginger
1/8 tsp nutmeg
1/4 tsp salt
2 eggs
1.5 cups canned pumpkin
1/2 cup vegetable oil
2 cups peeled and chopped crisp apples
Instructions
1. Preheat oven to 350
2. In a large mixing bowl, combine flour, sugar, baking soda, cinnamon, ginger, nutmeg, and salt
3. In another bowl, mix eggs, pumpkin and oil
4. Add the ingredients in the second bowl to the dry ingredients bowl and mix until just moistened
5. Add in the chopped apples
6. Then fill paper-lined muffin cups about 3/4 full
7. Bake for 30-35 minutes
8. Cool, and then enjoy!
https://tamaracamerablog.com/apple-pumpkin-muffins/
I only made one batch but I made some without apples and with raisins as pictured above, as a special request from both kids. Personally, I prefer the ones with pumpkin and apple for my afternoon tea time. You can have fun with it!
How do you Tea Proudly? Enjoy finding out more about Bigelow Tea on Facebook, Twitter and Instagram.
How do you find the time to connect with YOU?