This shop has been compensated by Collective Bias, Inc. and its advertiser. All opinions are mine alone. #PurinaMysteries #CollectiveBias
It was last year at nearly this exact time of year, that we brought home our cat, Juniper.
It was the first week of summer vacation, and I had decided that I missed a cat presence in my house. I work a lot, and at home, and I loved the idea of a kitten and then cat winding her way through my legs while I type, or walking across the keyboard while I edit photos. I missed cute little meows, and soft kitten ears. I've always been a dog person, but I was starting to wonder if I might be both? Just like I love having both a daughter and a son, and shopping in two sections in a kid clothing store, I have always loved the idea of going into the "Cats" aisles, as well as the "Dogs" aisles of my PetSmart.
Lo and behold, my dreams have come true!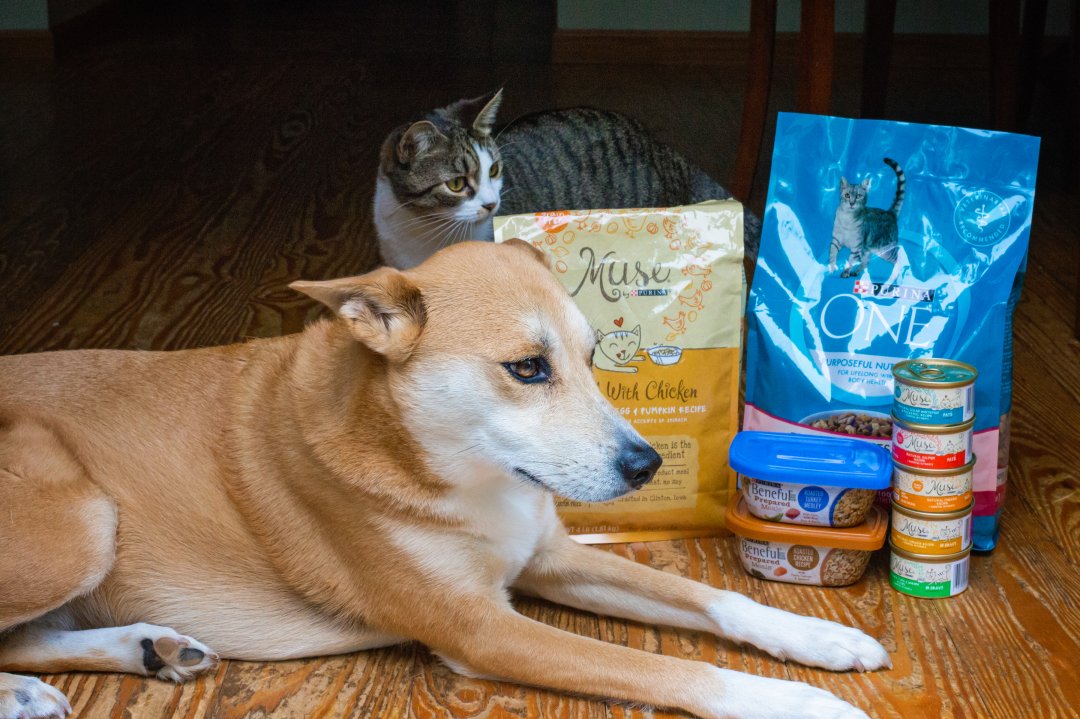 I go to PetSmart quite a bit – hitting all the aisles and saying hi to the cute dogs you'll see in those aisles! Right now, from 6/1 – 6/30, if you spend $40 of Purina products, you will get a $10 PetSmart gift card! Here's how this offer works. After you spend $40 on Purina products, you will then register your contact info and upload your receipt to the redemption site here. You will have until 7/9/17 to upload your receipt. After registration, you'll receive an email confirming it, that will also feature Purina promotional deals. You'll receive a $10 PetSmart gift card by physical mail within 4-8 weeks.
I buy quite a lot of dog and cat supplies at PetSmart, but here are three of my favorites – Purina® Muse, Purina ONE and Purina® TIDY CATS® Litter for Juniper, and Purina® Beneful® for Athena. Purina has a wide variety of pet foods, treats, and litter at your local PetSmart. What I love is that this takes the mystery out of how to care for my dog and cat, and I can give them what they truly want. It's no mystery how much I love both of my pets. It's also no mystery what to buy them.
And also, where to go! PetSmart, of course.
I find all my favorites within minutes. I love going to PetSmart because it's pet-friendly, of course, but there's excellent customer service when you're looking for food, treats, and supplies for your pets. They clearly put care into the experience.
So, back to that day we went to the animal shelter. There were plenty of kittens, but Scarlet picked out the tiniest, biggest-eyed kitten I had ever seen! She was pouncing around, and would then sleep on our laps. Scarlet fell in love on the spot!
We put a deposit on Juniper so that we could have 24 hours to get ready. This involved the house, her food and supplies, a litter box, getting the kids ready for such a tiny kitten, and then getting Athena ready for such a tiny kitten! As a puppy, Athena had been with cats in her foster home in Alabama, and had been around cats up here, but never such a tiny one. We wanted a total pet cat experience – indoors only, regular vet appointments, snuggling on the couch, waking up to her walking across my forehead, etc. We wanted the whole package, and we were ready for it. For Juniper.
Here are 7 tips for bringing dogs and cats together!
1 – Start with a slow and supervised transition/introduction. It took a few days for us, and we thought we were lucky! We never forced our pets to be together, but when they were, we were quiet and calm. We chose a neutral room (not with any of their food, water, litter, etc.) and let them see each other and be together for brief periods of supervised time. Then we gradually increased their exposure to each other. This was the crucial period and we all passed the test!
2 – Matchmaker, matchmaker, make me a match! Even though Juniper was Scarlet's first choice, I preferred a quiet two-year-old sweetie named Maggie. The problem is that they weren't sure if Maggie was dog-friendly, even though she was kid-friendly. We worked with the adoption counselors to make sure Juniper was the right match for all of our needs, and hers.
3 – Give the newcomer a safe space. Whether the new arrival is a puppy in a cat household, or a kitten in a dog household, make sure the new arrival has a space of their own for a few days, or even a week. This area should be off limits to the current pet of the house. And don't let the current pet linger too much outside of the safe space.
4 – Consider a dog leash or command. We kept Athena's leash on during her early meetings, in case she got too aggressive. Another option is to put your dog in a down-stay position to allow your cat to move away if need be.
5 – Put your litter box somewhere private. This is mostly for your cat's sake, since invasion of privacy can be stressful. It's also for your dog's sake, because dogs have been known to EAT litter. And toddler boys think they're sandboxes..
Yes, that really happened once.
6 – Offer separation for meal time. Cats tend to not eat all their food at once, while many dogs do. Make sure you keep their food and food areas separate. Athena LOVES cat food, if given the chance. And that does stress Juniper out.
7 – Don't push the friendship. They may become best friends, and they may not. Settling for courteous companions, or casual acquaintances is enough in this situation! And that relationship may grow over time.
Why do we follow these tips so closely? Pure love. It's no mystery that I love both of my pets and I love one-on-one time with them. I'm also happy they can bond with each other. I love that we can all add to each other's lives so much.
How do you get ready for having dogs and cats? What's your favorite part of shopping at PetSmart?
Happy Pet Ownership!