This shop has been compensated by Collective Bias, Inc. and its advertiser. All opinions are mine alone. #MerrySpritzmas #CollectiveBias
It always astounds me to think about how I grew up in a house with four bathrooms. FOUR!
In fact, my parent's farm has four bathrooms but that isn't the house I grew up in – it's just a coincidence. When we were looking for a house, with one toddler and another baby on the way, I said I had two deal breakers. First, it had to have central air. They laughed at me because apparently that's not the default in New England, but I did get my wish! Second, the house had to have at least two bathrooms. I definitely got my wish on that one and I freely admit that it adds to my sanity, except.. things are a little nutty right now! We're all sharing one bathroom while the renovations go on and on.
Not only that, but it's nearly time for house guests! And you KNOW we're all about the holidays here.
Our house smells GREAT and yours can too with the amazing all-natural Poo~Pourri. Hover over the (below) image to experience "Smelling is Believing!" at Poo~Pourri.com. You'll love it! It's the perfect gift for loved ones, and yourself.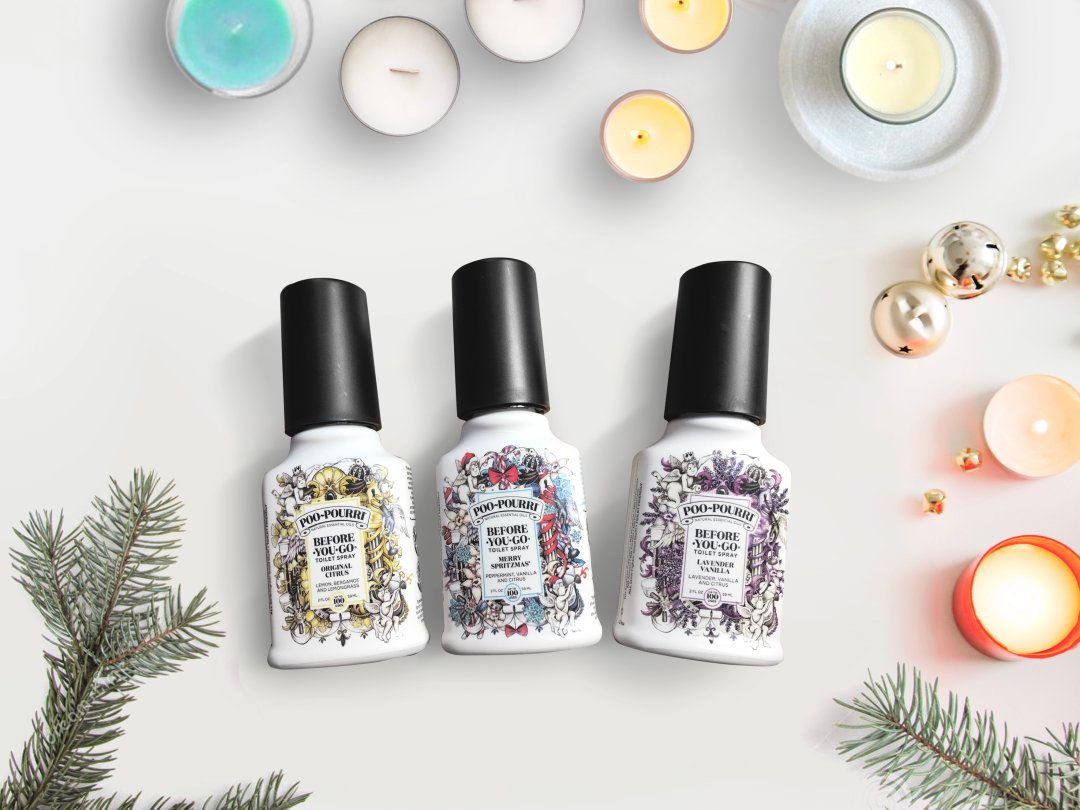 In fact, I have a coupon code for you! Go HERE to experience the wonder!
So you know I'm kind of an expert, right? Right. The thing is, I know what it's like to deck the halls, and decorate the walls, and have the house smell AMAZING! Here are 5 Ways to Make Your House Smell Like Home For The Holidays this season.
1 – Get your simmering, mulling spices ON! Cassidy has been doing this since before we met, and I picked it up from him. I'm talking getting the good stuff going on your stove. Fill a saucepan with water and/or spiced cider and add cinnamon sticks, apple slices, orange slices, lemon slices, etc. Heat the mixture, let it simmer, and fill your home with happy smells!
You can also simmer pine branches on the stove too! YUM.
2 – Use the pine cones in your yard! You knew there was another use for them other than your kids' crafts, right? We spritz them with a mix of cinnamon oil and water and then put them under the tree, near the fireplace, etc. SO yummy!
3 – Make your own scented ornaments. These are sort of a grade school treat. We used to use cinnamon, applesauce, and glue dough (don't eat!) and then bake them and hang them from the tree. You get a whiff right when you walk by the tree.
4 – Make your own potpourri. You can experiment with dried fruit and spices. You can also use sprigs of balsam and rosemary. We keep ours in a bowl on our coffee table and it's superbly delicious smelling. Like home for the holidays!
5 – Speaking of potpourri, the real star of the show is Poo~Pourri! We canNOT and will NOT have the holidays without this gem! You know what it is? It's the perfect gift for the smell you'd rather forget! You can buy it for your loved ones (and yourself) because it's funny and a great Christmas morning conversation. After buying, you use it because it WORKS!
Our favorite? Merry Spritzmas®. It's peppermint, vanilla and citrus, so that's pretty dreamy. In my desire to make EVERYTHING smell like Christmas, this was the first one I bought on poopourri.com! The natural essential oils eliminate bathroom odor before it begins – and in grand CHRISTMAS fasion – by creating a barrier on the water's surface.
Buying my three favorite scents took two minutes! Poo~Pourri has received over 5,000 5 star reviews with 40MM bottles sold, and there's always free shipping on orders over $19.95! I love to buy 3+ at once:
It's really simple how Poo~Pourri works, though. You spritz it into the toilet BEFORE you go, and the pure blend of NATURAL ESSENTIAL OILS creates a film on the surface of the water. Then, this protective barrier traps odors under the surface, before they even begin! What you'll smell is a refreshing bouquet of NATURAL ESSENTIAL OILS.
'Cause lets' face it – everybody does it – and especially in overcrowded houses during the holidays! It's only natural, so use something all-natural and transform your bathroom experience for the better! And also, make it better for the ones who go in there after you! Live confidently and OWN your THRONE. Free yourself from toxic thoughts and ingredients.
Don't forget to check out the inspiration here watch the hilarious video here, and get your 20% off discount here.

You can also click on the (below) photo to get your discount! You'll love it!
Which scent will you try first?