Thank you Idaho Spuds for sponsoring this post. VeggieMash mashed potatoes are a blend of 100% Idaho® grown potatoes and real vegetables for a new take on a family favorite and we love this Veggie Mash Egg Roll Recipe!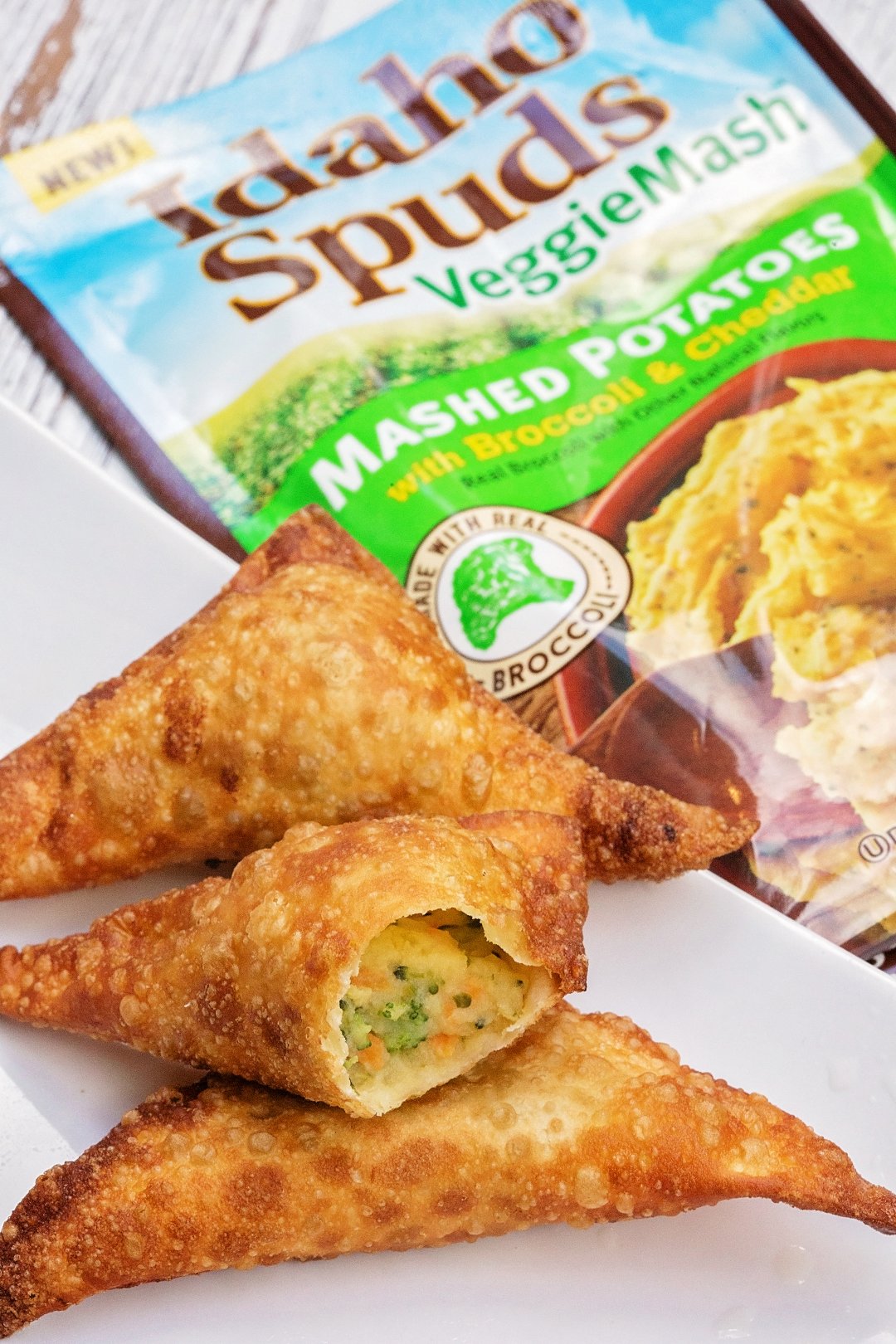 Click on the tags in the above image to shop directly!
How's back to school season going for you, everyone? It's going well for us! Just today, the kids took the school bus for the first time. That means 1-2 extra hours in my day, to be divided between work, extra walks at the dog park once the weather settles down, and maybe having breakfast out. YUM! Right now we're working on a more cohesive plan for dinner, since breakfast is easy and lunch is mostly school lunch. Right now, we're talking my favorite Veggie Mash Egg Roll Recipe!
There's not much not to love about this.
Mainly, it's because it uses Idaho Spuds VeggieMash. And all Idaho Spuds products start with 100% Idaho® Potatoes! So you can get your family to eat their greens – without them even knowing it – because VeggieMash is made using real vegetables. Also, making healthy choices has never been this easy and this tasty! What's not to love? It's easy to make and even easier to eat. There are real veggies, real potatoes, and real taste. It's pretty much my favorite thing. You all KNOW how I feel about potatoes, and Des feels the exact same way. With this delicious Veggie Mash Egg Roll recipe, Scarlet is a fan too!
Veggie Mash Egg Roll Recipe:
What You Need:
2 cups Idaho Spuds VeggieMash in Broccoli Cheddar
1 cup lightly steamed carrots
1 egg
1/2 tsp garlic powder
1/2 tsp onion powder
Egg Roll Wrappers
Salt and Pepper
What You Do:
1 – First, prepare Idaho Spuds VeggieMash in Broccoli Cheddar according to instructions, and let cool
2 – Combine VeggieMash, onion powder, garlic powder, carrots, egg, salt and pepper in a bowl and mix until combined
3 – Third, lay out egg roll wrappers with corner facing you – placed mixture into the center of each wrapper
4 – Then, fold in and wrap tightly – use water to secure the tip because you want them secure
5 – Preheat oil to 350 degrees and fry each egg roll for about 4-5 minutes until they're brown and crispy
Giveaway:
Giveaway details:
Prizes: an assortment of Idaho Spuds VeggieMash product
Dates: August 20 – September 9
Click here to learn more about Idaho Spuds VeggieMash
Check out the Idaho Spuds Facebook page!
Check out the Idaho Spuds Instagram page!
Notification: Winners will be randomly selected and notified by CLEVER by September 9
Terms & Conditions:
Age 18+
US residents only
So, what's your favorite back to school dinner?
I was selected for this opportunity as a member of CLEVER and the content and opinions expressed here are all my own.