This shop has been compensated by Collective Bias, Inc. and its advertiser. All opinions are mine alone. #TheOtherBowl #CollectiveBias
How many times do I tell you that I have a real treat for you with a recipe post?
Probably more often lately, right? It's because I've been impressing myself! I started cooking a few years back as a life challenge for myself. I already knew how to bake, and sometimes quite well, but I needed motivation for my savory recipes – particularly party recipes. We seem to entertain quite a bit and I know I'm always looking for the best party recipe. Over the holidays, you may remember that I made a Chicken Pot Pie Wreath with red and green vegetables. I'm nothing, if not festive! And I love a big game party as much as the next person so that's 50% for the food. And 50% for the ambiance.
I love a party with character. I love a party with decorations, food, conversation, and HUMOR. And I love a party focused on cleanliness and comfort too. That's why you should hover over the image (below) to start shopping for your Big Game party!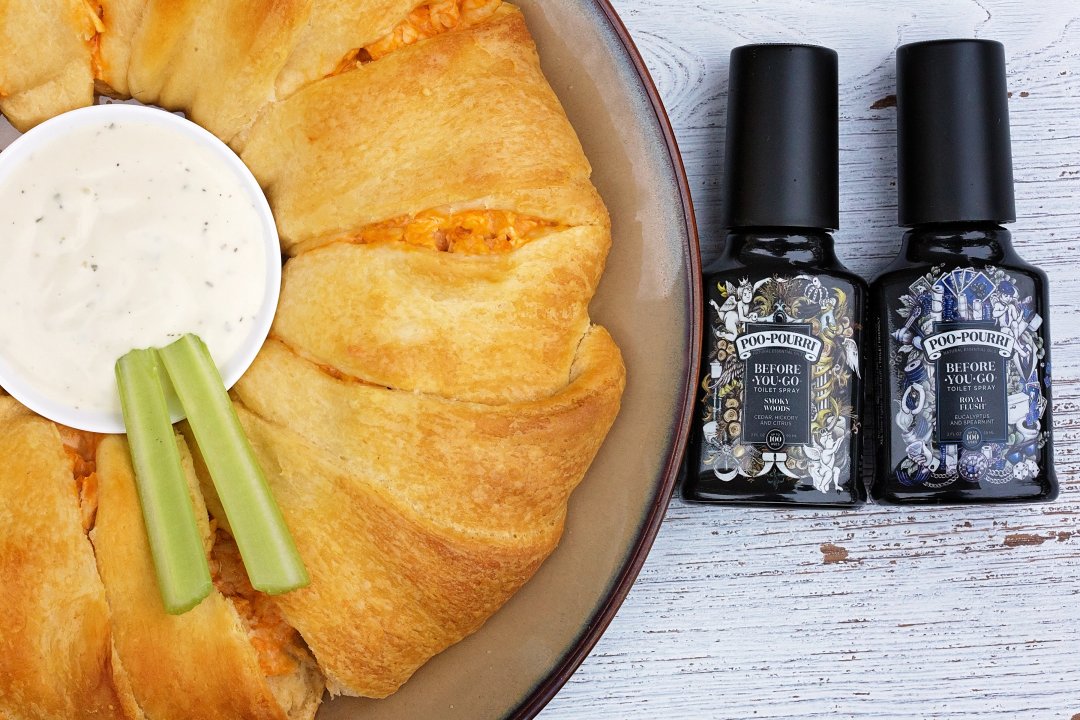 As you prepare for your big game party, no matter how large or small, you probably have your guest bathroom in mind, among other things. How do you take your entire party – including the bathroom – to the next level? With these 5 tips:
1 – Embrace all that is amazing about Poo~Pourri. Over the holidays, we got quite attached to all the festive varieties! Now that we're knee-deep in winter, we have some new favorites! Personally, I find Royal Flush® Before-You-Go® Toilet Spray from Poopourri.com to be quite fetching. I'm also big into the Smoky Woods variety! It's Cedar + Hickory + Citrus.
Where do I get these gems? From Poopourri.com, of course!
Why do we love it? It WORKS! It also helps make guests feel comfortable, which is important when party planning. A true Game Day Hero! We LOVE to have a good party here. And don't forget about the Other Bowl! Not at your awesome party.
Poo~Pourri rocks. I bought it for all my loved ones for Christmas, because it's funny. Right? Well it also works. So now I keep buying it! It's all natural – no synthetic fragrance, no alcohol, no aerosol, no parabens, no phthalates, no formaldehyde, and all stink-fightin' good stuff. The people have spoken because there are over 40MM bottles sold, and 15,000+ 5 star reviews!
Also, free shipping on orders over $19.95 at Poopourri.com! How does it work? It's actually simple. When you spritz it into your toilet bowl – before you go – the pure blend of NATURAL ESSENTIAL OILS creates a film on the surface of the water that traps odor under the surface. A protective barrier! It stops trouble before it starts and all you'll smell is a refreshing bouquet of NATURAL ESSENTIAL OILS. Flush yeah to that! Hello, to your happy and comfortable football party guests!
2 – Step it up with your decorations! I mean, your other bowl is already amazing, so why not use proper decorations? One thing we did once was put all of our chairs together on two sides to look like bleacher. And they were facing each other! Maybe some jeering was involved. We also gave our kids whistles and flags. Aren't we insane? Well it was fun!
3 – Get your sight and sound ready. Sometimes upgrades are in order because you can't watch the big game on a tiny screen! My husband will often have the game playing on two different screens in the house. That can be rather fun.
4 – Here's a fun party hack – get a disposable grill. Yes. For real. You can enjoy it knowing you're not destroying your grill. And it's so cold to grill right now! You can get a grill pan for your stove and let the fun begin!
5 – Speaking of food, it's recipe time! My Spicy Chicken Ring is a crowd pleaser with some vegetables and dip.
Ingredients
1/2 package cream cheese (4 oz), at room temperature
1/3 cup hot sauce
3 cups cooked rotisserie chicken, chopped
1 cup shredded cheese of choice (we chose pepper jack)
2 cans refrigerated crescent rolls
Instructions
1. Preheat oven to 375
2. In a bowl, combine cream cheese and hot sauce until smooth
3. Then mix in chopped chicken and cheese and stir
4. Open the crescent roll dough and separate into 16 pieces
5. On a baking sheet, arrange them to look like a sun - short sides of triangles are in the middle (dough can overlap)
6. Spoon filling mixture on half of the triangles - closer to the center of the sun
7. Bring each triangle edge up over filling, and tuck under bottom layer
8. Repeat around the sun. It's ok if filling shows. I like that!
9. Bake for about 22 minutes or until dough is golden brown
10. Enjoy!
https://tamaracamerablog.com/5-ways-take-super-bowl-party-next-level-spicy-chicken-ring/
I hope those step by step photos show you how fun and easy it is! There is no end to the delicious flavor and doughy goodness. I like to make a variation of this recipe for many occasions, because it's always easy, festive, and fun.
And that's all my wisdom for today! Intriguing decorations. Amp up your sight and sound. Create a delicious recipe. Have some fun. Eat some food. And NEVER forget the best ways to game up your bathroom with Poo~Pourri from Poopourri.com!
What's your best way to take your Big Game Party to the next level?