This shop has been compensated by Collective Bias, Inc. and its advertiser. All opinions are mine alone. #OwnWhatYouEat #CollectiveBias
To say I juggle a lot of balls at once would be an understatement, especially lately.
Earlier this week, I felt the effects of my own zany busyness. I was having a work meeting at my computer while our workmen hammered away in the next room. While I was answering work emails, they were taking a lunch break behind me. At the same time the kids were due home, the water softener people were arriving for their consultation. The dog had to go to Grandma's house, the cat to Holly's house, and the chicken sitter was on her way. All because we were due to leave for our Florida trip the next day. Did I mention we had to move the house around because the floors were being refinished?
I know this kind of nuttiness isn't here to stay, but my daily life is probably not going to get less busy. That's ok. I OWN it.
And it's all because of the choices I make, the company I keep, and my motivation for the future. It's all good! I'm gaining confidence here, and I'm someone who has struggled with it for my entire life. I juggle parenthood, 3 jobs, and marriage.
I had mentioned the words HARMONY and COMPLETE for the year. Hover over the image below to see how I'm OWNING 2018!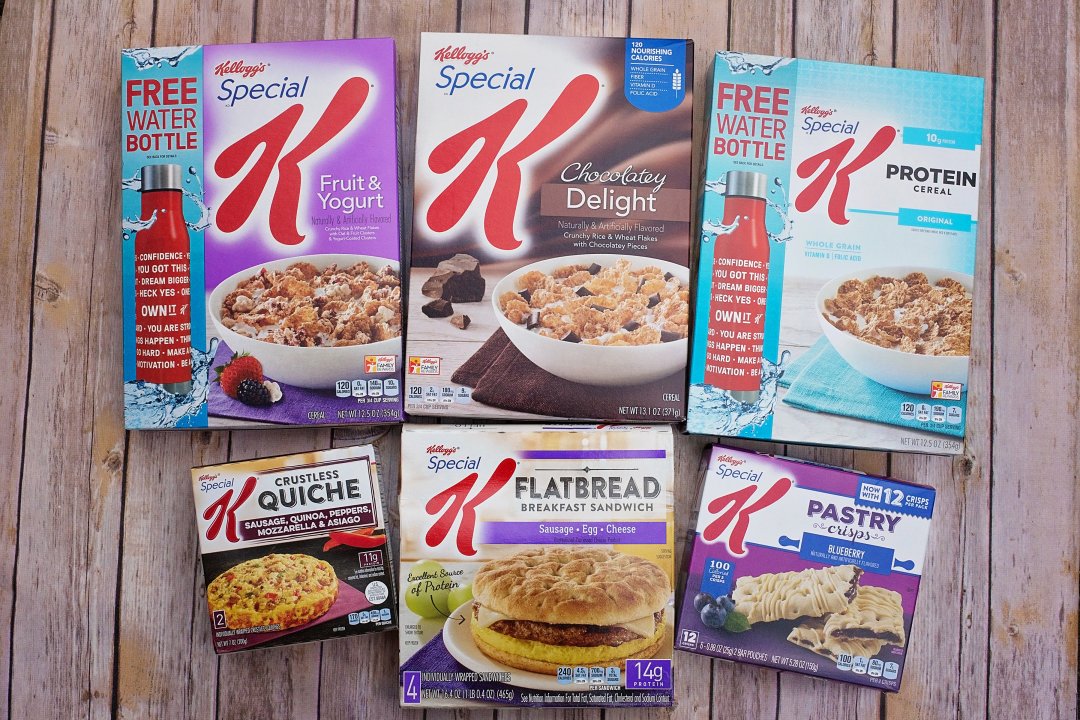 For as long as I can remember, I've had a special love for Special K® food and snacks. I love the variety, from breakfast to lunch to snacks, and even dinner. When I get caught up doing too many things at once, which I'm quite guilty of, I can be rest assured that some things are simple. Some choices are simple. And that's with my favorite cereals, like Special K® Chocolate Delight Cereal, Special K® Protein Cereal, and Special K® Fruit and Yogurt – among others.
You KNOW from the above photo that I have embraced the Special K® Protein Caramel Pretzel Cashew Bars because I need snacks and cereal with the protein I need to fuel my day.. I also find that Special K® Blueberry Pastry Crisps are a must-have in my house! We love all the flavors. However you eat it, own it. That's why diets are out, and confidence is IN. Recently I discovered breakfast items! YUM. I sometimes can't decide between the Special K® Sausage Crustless Quiche and the Special K® Sausage, Egg & Cheese Sandwich. Luckily I have both at home so I have great starts to my days.
Here's where it gets more exciting:
From 12/31/17 – 1/27/18: Get 10% OFF select Special K® Quiche and Handhelds at Target.
From 11/1/17 – 6/1/18: Get a free Swell water bottle with an empowerment message on it via Kellogg Family Rewards when you purchase any combination of three (3) participating Kellogg® Special K® products between 11/1/17 and 6/1/18. Receipts must be submitted by 7/1/18.
Click here to learn more about the Kellogg Family Rewards offer for a free Swell water bottle with purchase of three Special K® products!
Personally, I love to stock up when I'm at Target. With juggling so many things at once, it's nice to have the confidence I need when shopping for all these products I know and trust. It's helped me to write 5 things to COMPLETE for 2018:
1 – I want to COMPLETE a meal plan. We've been experimenting, and everyone is happier when there's some plan and some flow. It's easy enough to plan out our breakfasts and snacks, especially with Special K® food and snacks. That helps to then plan the meals that make us happy. It can be exciting, I swear. We've been doing that for about two weeks.
2 – I want to COMPLETE a 5K. Scarlet and Cassidy ran one in 2017 and I wasn't ready. Now I feel more ready.
3 – I want to COMPLETE a year of routine and timely physicals, dental appointments, checkups, etc.
4 – And I want to COMPLETE a full series of classes – whether it's barre or Zumba or yoga.
5 – Lastly, I want to COMPLETE a self-care regimen that sticks. I don't want to burn out. It's all about books and more books. Movies and luxurious baths. Recognizing that I'm not building a life I need an escape from – because I love my jobs and family life – but I'm building a life in which I learn how to ask for help or to stop and breathe when it gets overwhelming. It WILL get overwhelming. I will need rest. All so that I can go back to OWNING it after my break. Like at the store:
Special K® food and snacks are found at Target:
Check out the Kellogg Family Rewards page to find great Kellogg deals!
What's your One Word for 2018?