This post was sponsored by Lowe's as part of an Influencer Activation for Influence Central and all opinions expressed in my post are my own.
When I was a kid, my mom did the house UP for Halloween. Actually, she did the house up for every holiday. I would never be surprised to get presents for St. Patrick's Day – despite not being Irish at all – and seeing the bins of decorations go up in a timely fashion for every holiday. Then there were birthdays, where we got balloons and garland, and the "junk" cereal of our choice. My mom is an artist/art teacher and loves all holidays, while I sometimes give in to moods or lack of moods, and I'm not quite up to her gusto. That said, I always loved Halloween and now it's even better as a parent. It's FANTASTIC.
If you need reminding, I can tell you that it was IN our wedding vows to be the most popular house on Halloween night. And oh yeah – my husband made an insane Halloween costume in six days and won the costume contest at the parade. We talk about Halloween for every day of October, and September, and by the way – have you seen our house? It's decorated!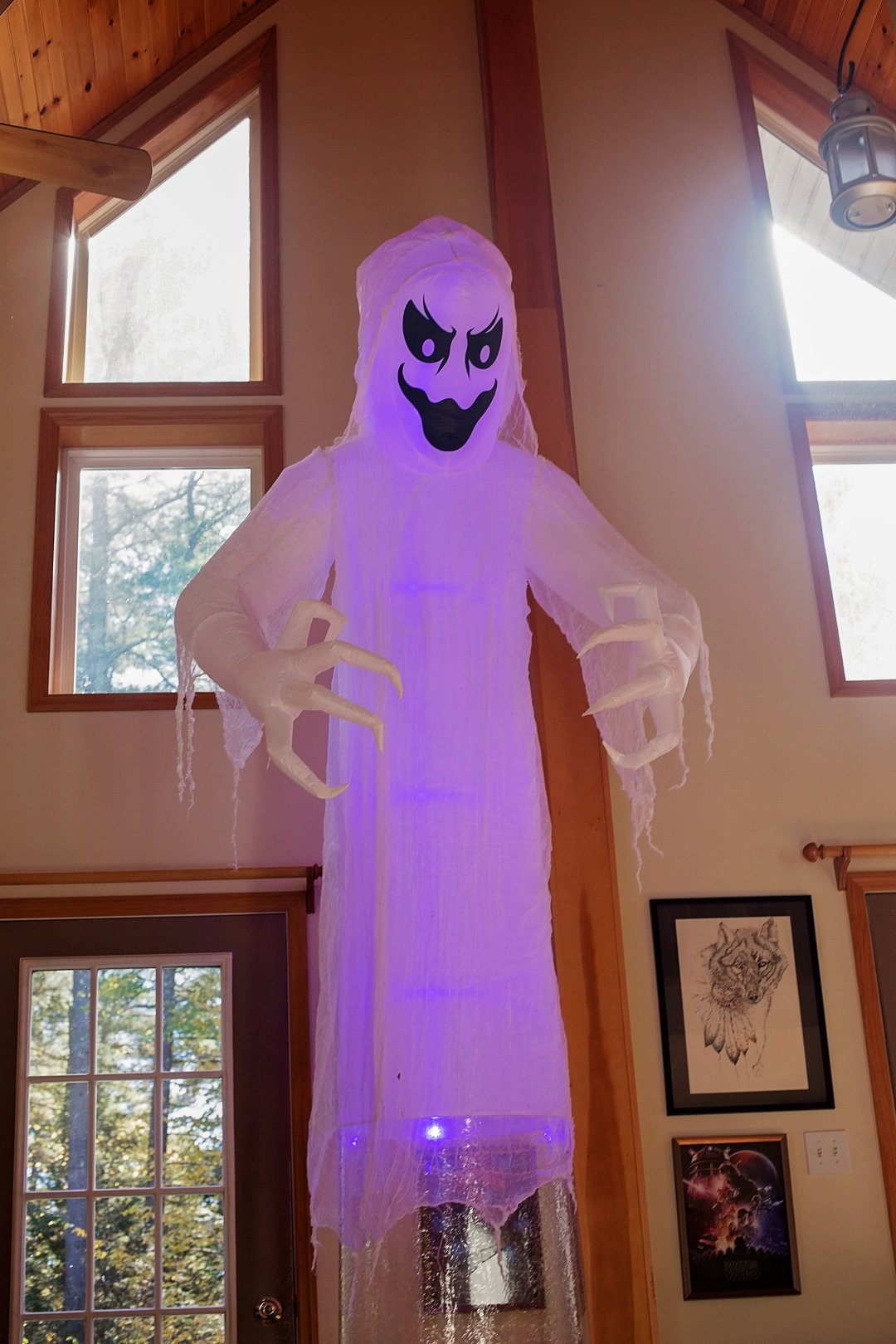 Even though we sometimes pull costumes together on the last possible day, or in my husband's case – six days before Halloween, we do decorate and plan our house in advance. We also get inspired to cook up some fall recipes to add to the overall theme of the seasons, and to bring out our favorite smells, tastes and sights of Halloween. Our kids are big fans of the holiday, just like we have always been. There are five ways we do it UP for Halloween, starting with the best one.
1 – We decorate like crazy! This year, our "theme" was a new one for us. It's Glam Halloween Décor. We favor a lot of black and metal colors this year. The whole family went shopping at Lowe's together and couldn't believe what they had.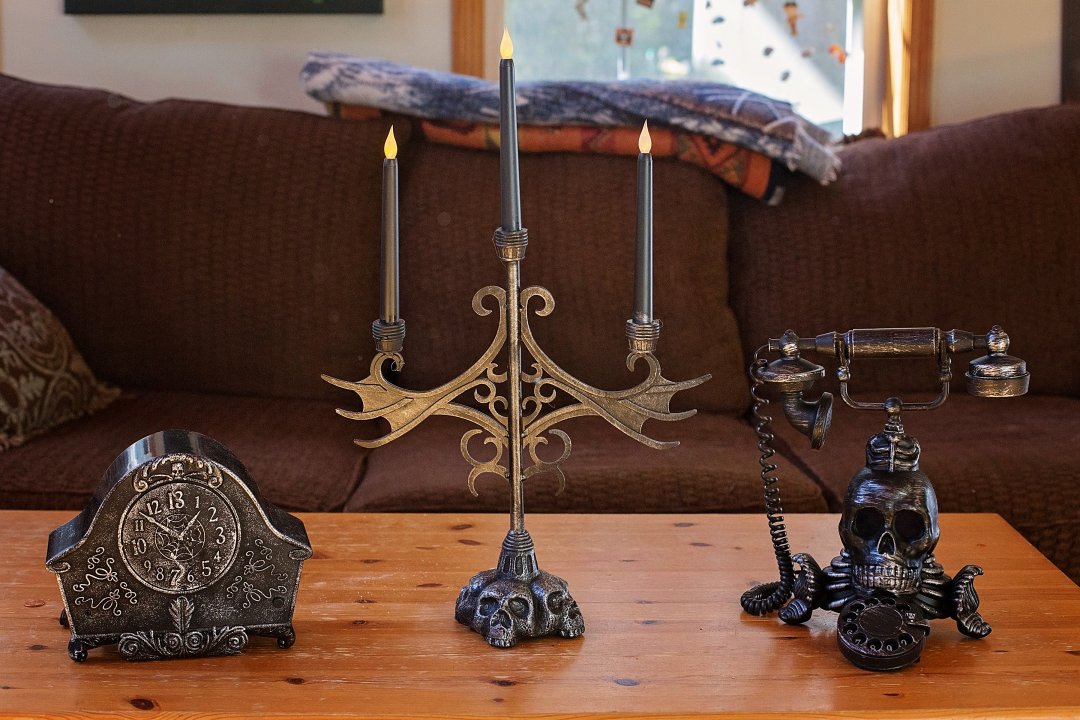 I love their selection, but also their interactive displays. I love the way they group their products together so you get a real feel for how it will look in your home. And I love all the animatronic Halloween decorations, like this: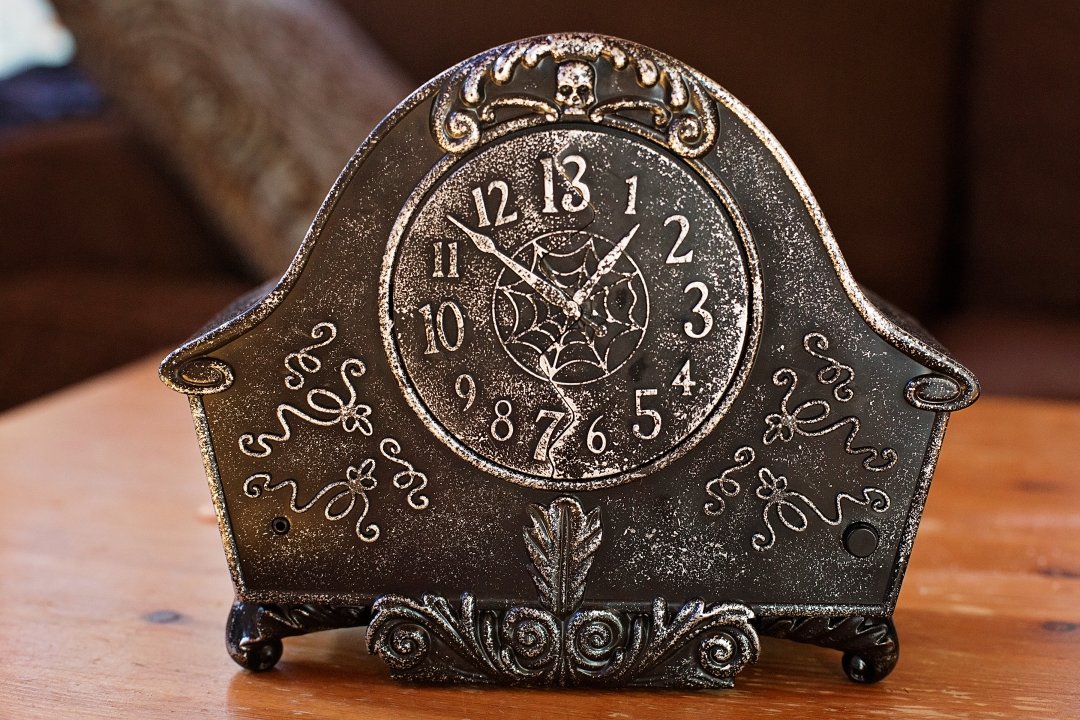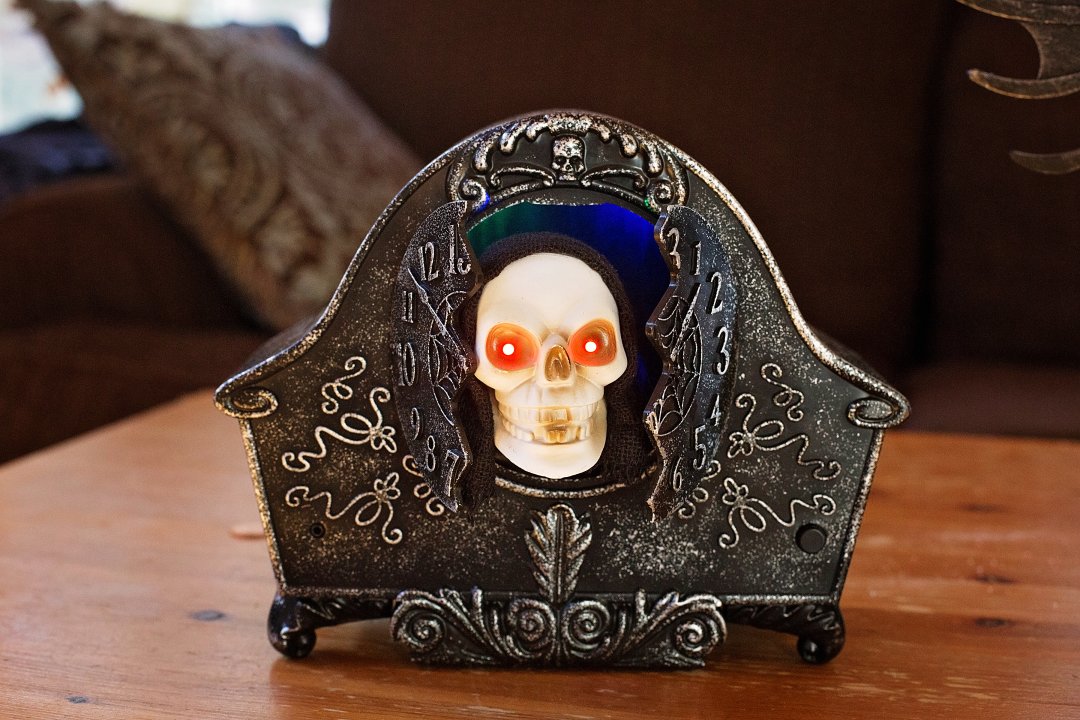 Lowe's offers great values on the latest in décor trends – like our Glam Halloween theme – and has the spookiest ideas to deck out your house for Halloween this fall! Amp up your home's spooky spirit this Halloween in total style! Want to know everything we got? You can find it all in the photos above and below, but here's my list of our favorite Halloween choices:
1 – Holiday Living 12-ft x 4.36-ft Lighted Reaper Halloween Inflatable
2 – Holiday Living Animatronic Pre-Lit Bowl Tabletop Decoration Multicolor LED Lights
3 – Holiday Living Animatronic Pre-Lit Musical Skeleton with Flashing Multicolor LED Lights
4 – Holiday Living Animatronic Pre-Lit Skull Telephone Skull with Flashing Orange LED Lights
5 – Holiday Living Animatronic Pre-Lit Musical Clock Tabletop Decoration with Constant Multicolor LED Lights
6 – Holiday Living Pre-Lit Musical Candelabra Tabletop Decoration with Flickering White LED Lights
7 – Holiday Living Pre-Lit Mirror Tabletop Decoration with Constant Red LED Lights
8 – Holiday Living Skull Hourglasss Tabletop Decoration Multicolor
9 – Holiday Living 24-in Pre-lit Indoor/Outdoor Berry Artificial Halloween Wreath with White LED Lights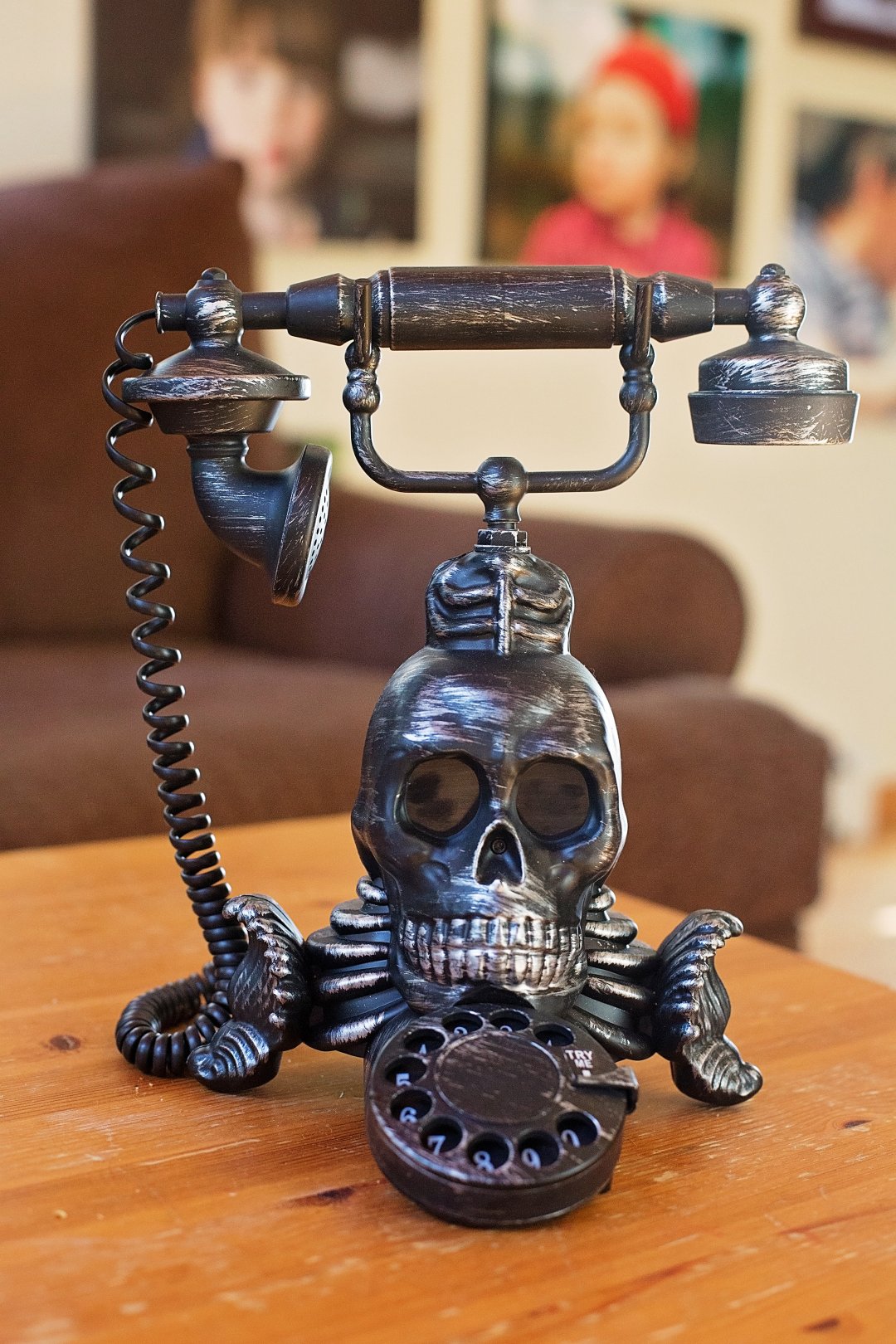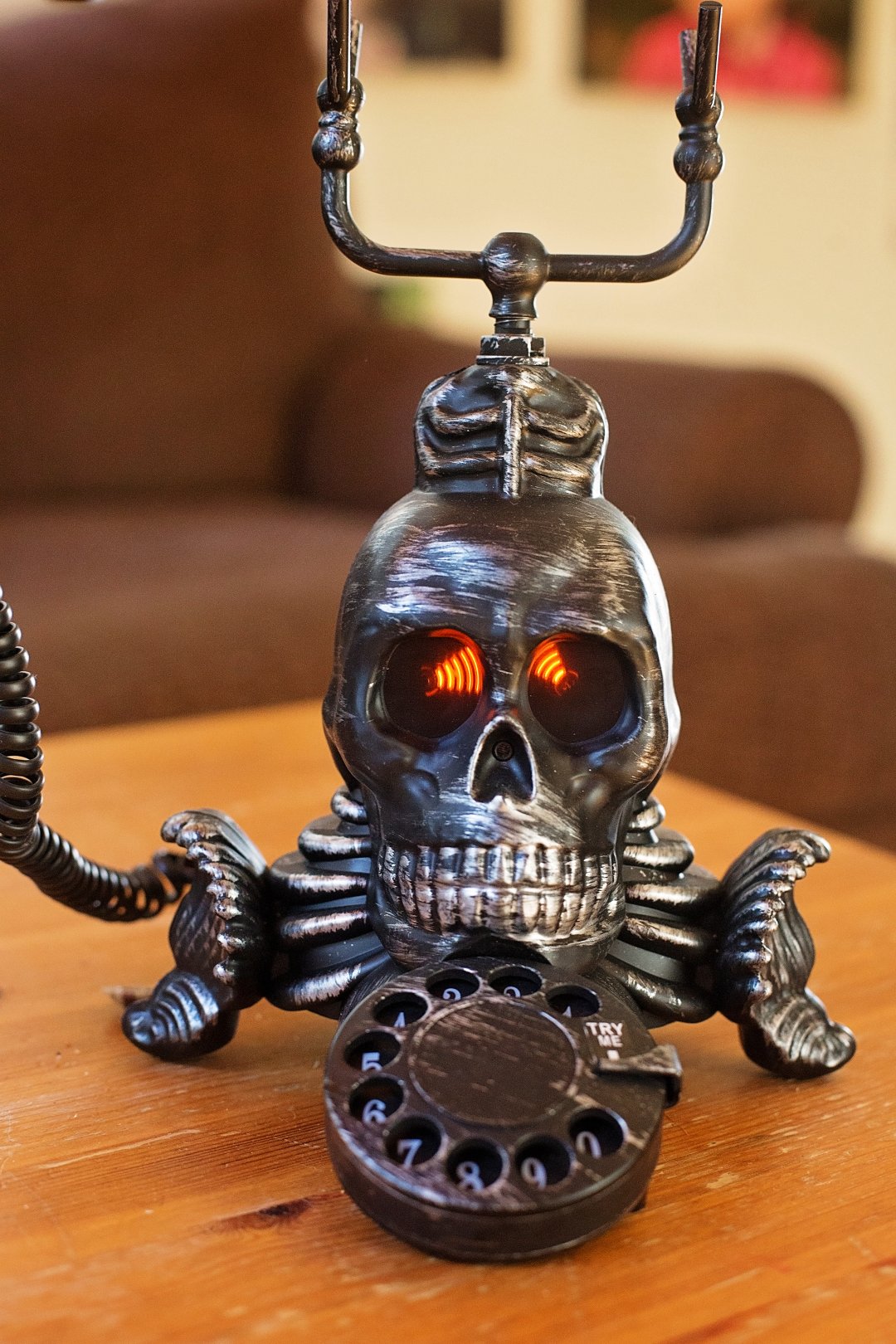 In fact, since I like you so much, I made a reel of our Halloween decorations in action. The majority of them had something really fun about them, and I wanted you to also experience the sights and sounds of it! Des helped make this video:
And here are four other ways we do it UP for Halloween! 2 – We get CRAZY with our Halloween costumes. We plan them for months in advance. 3 – We craft/DIY even more than usual – with pumpkin carving and all sorts of paper crafts. 4 – We light candles! Spooky! And 5 – We watch Halloween movies all month long. No doubt, this holiday is our time to shine.
And Lowe's really helps us amp up the Halloween spirit!
Check out these photos for inspiration: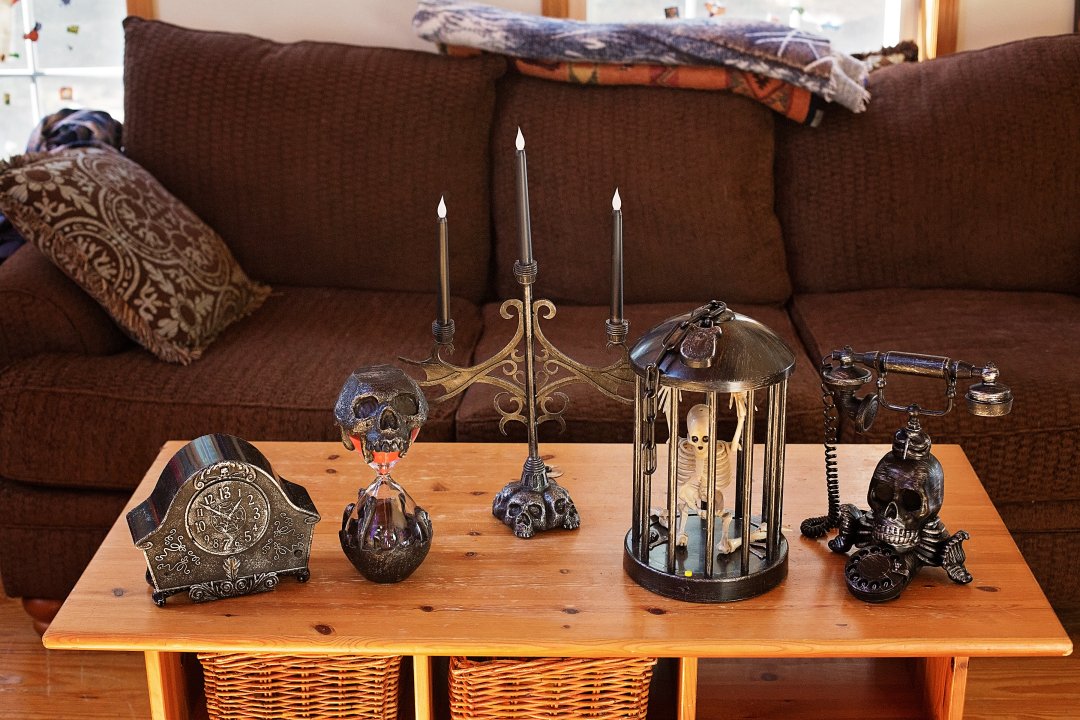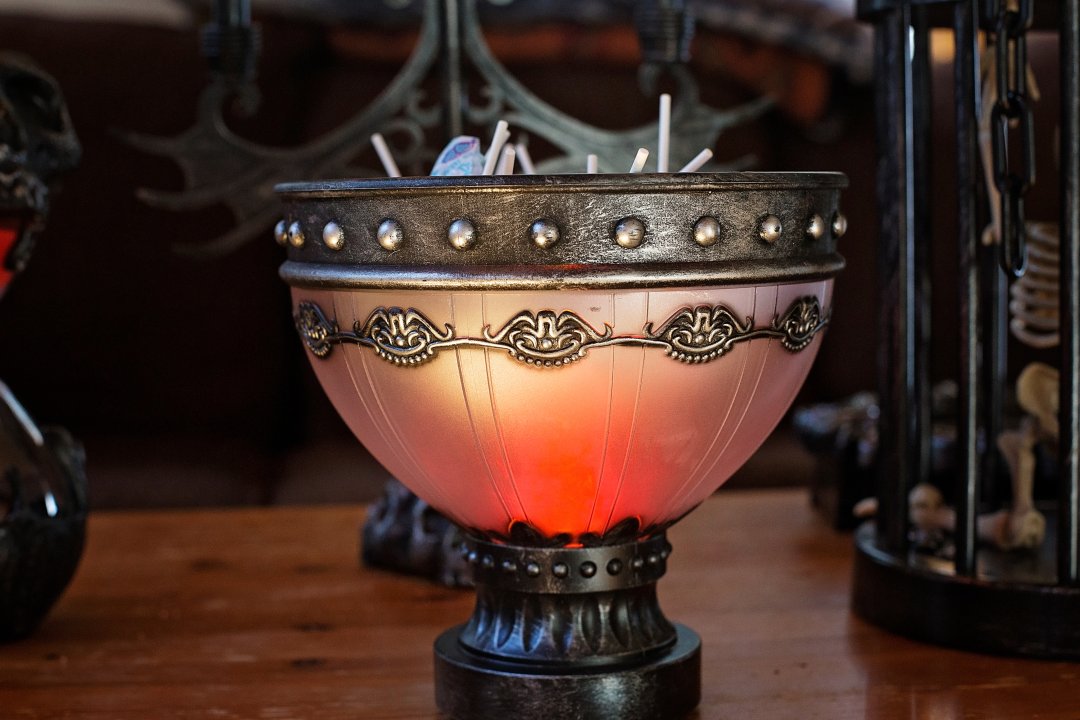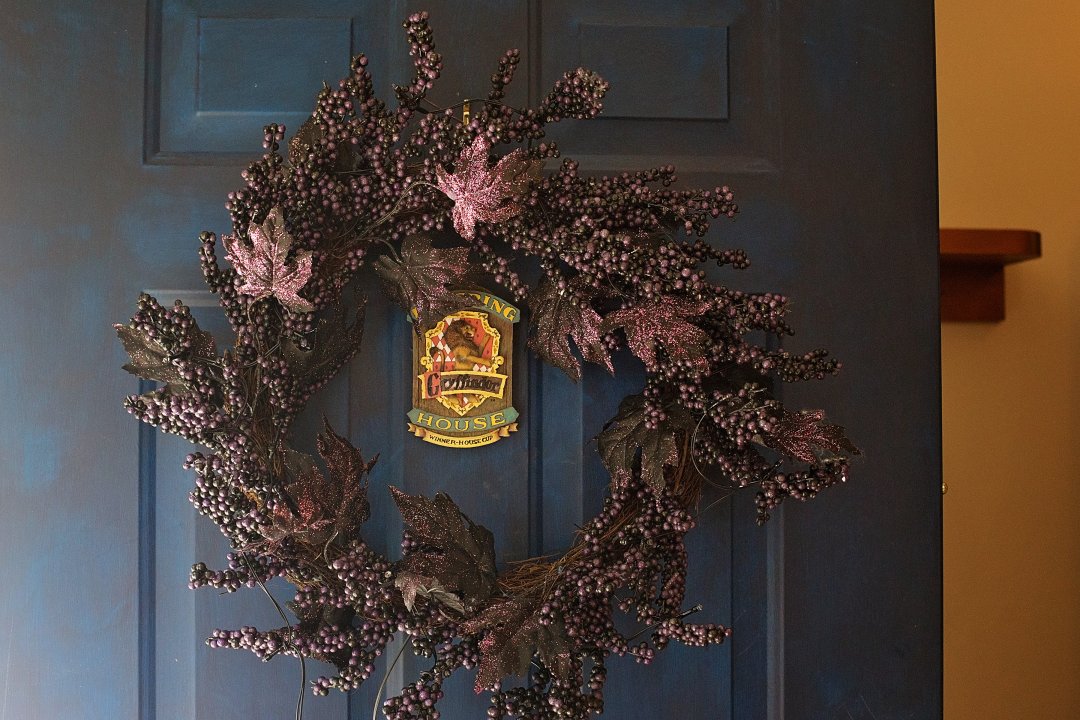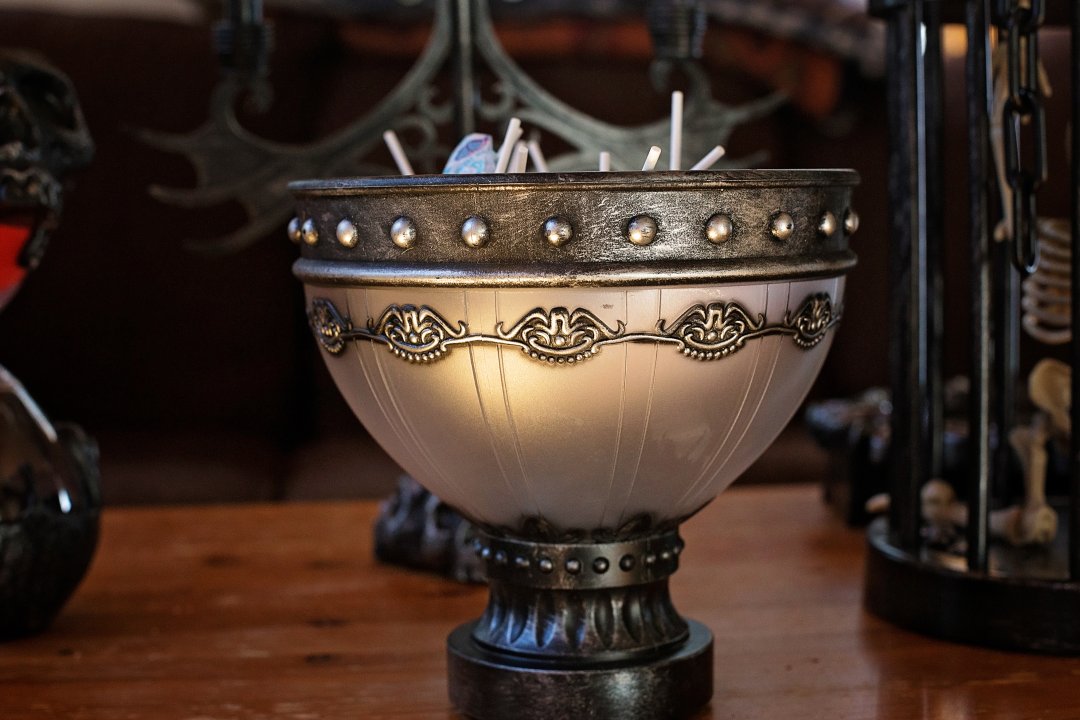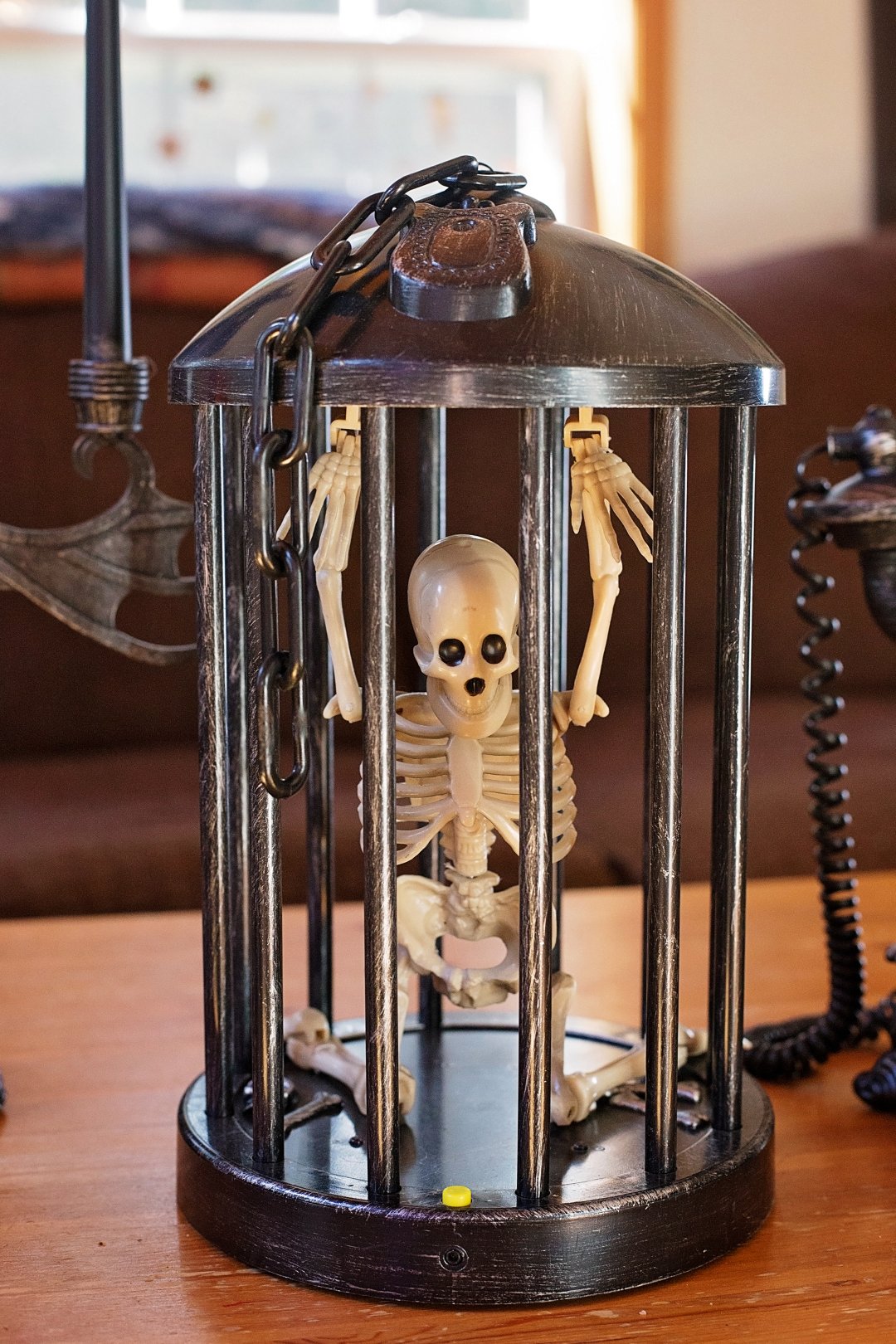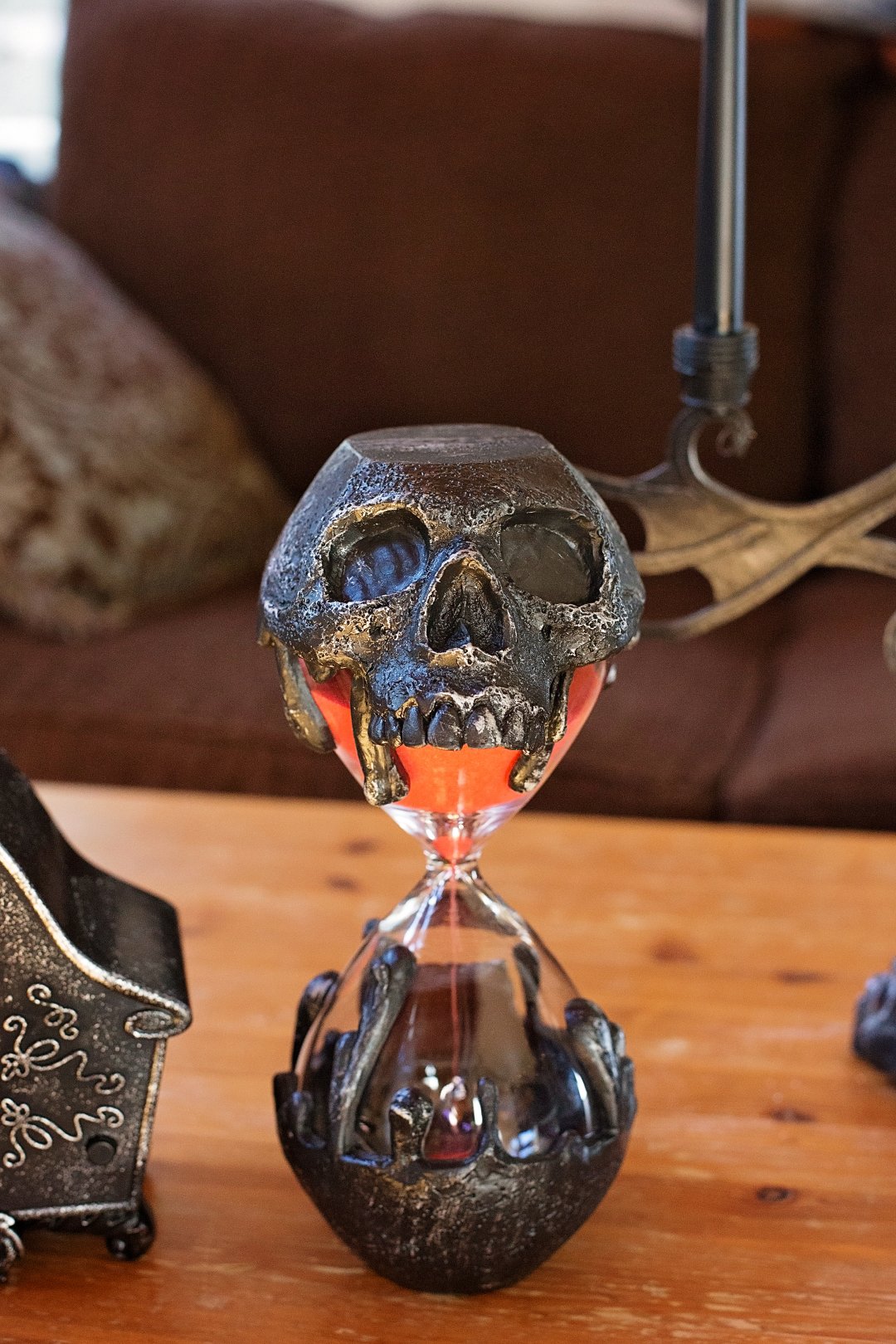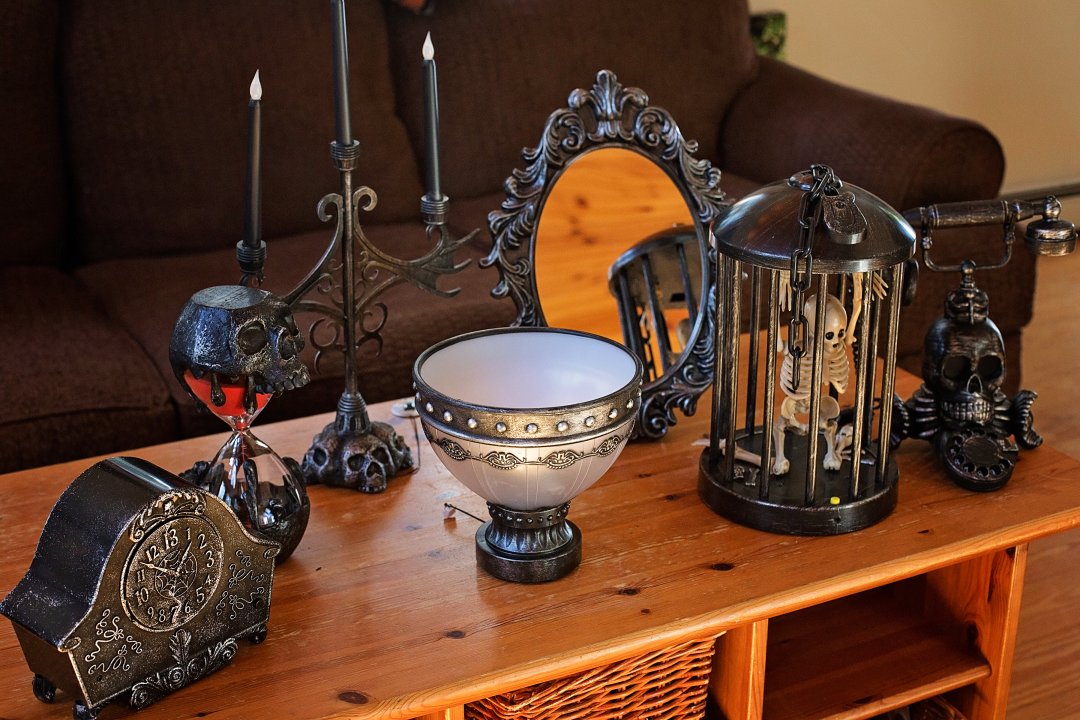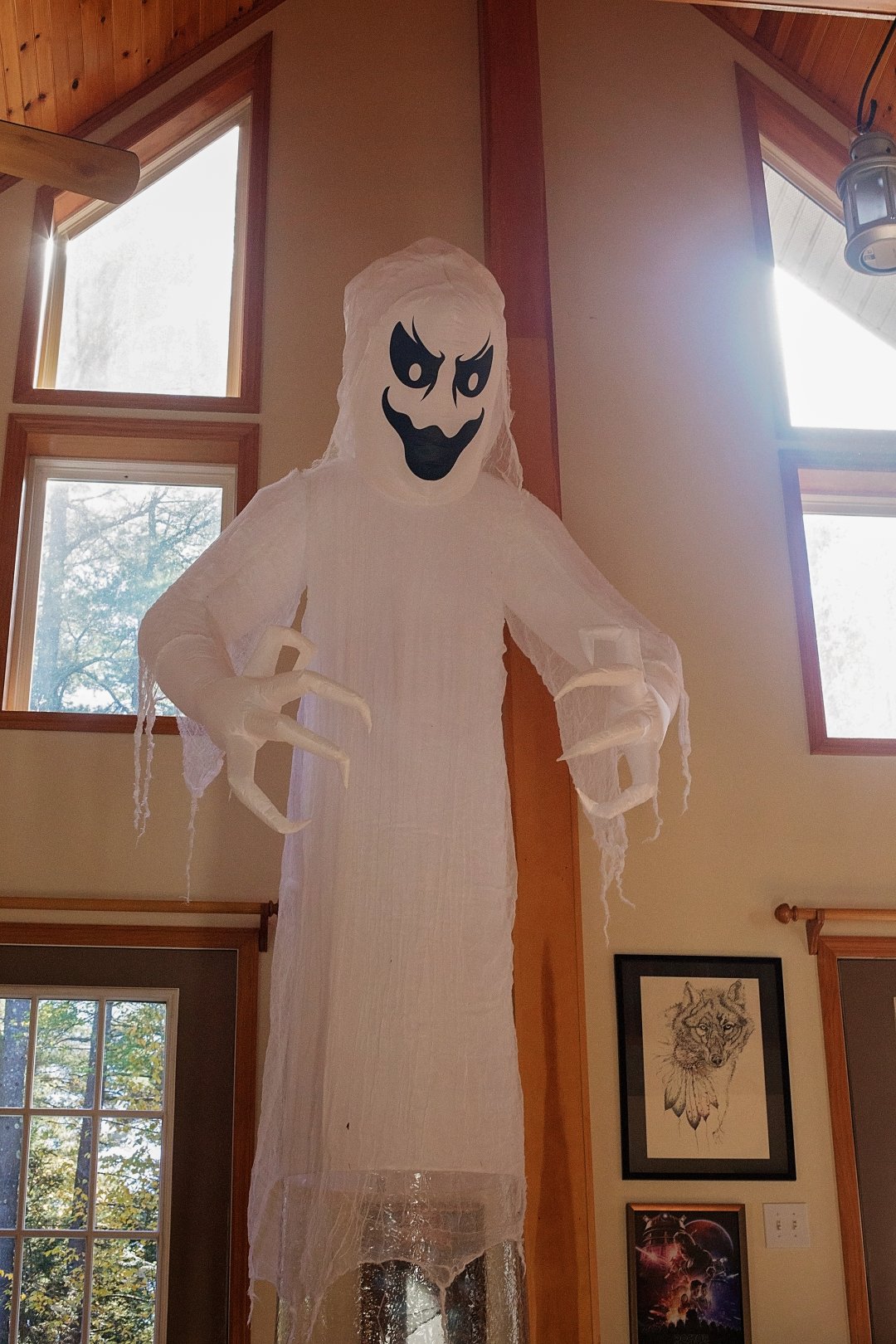 Don't forget to check out how to have an amazing Halloween with Lowe's here.
Which one is your favorite?