This shop has been compensated by Collective Bias, Inc. and its advertiser. All opinions are mine alone. #ProtectFromPetMess #SeasonalSolutions #CollectiveBias
It seems like everyone has their own order for when to have kids and get pets!
In our house, we had kids first! Both kids, in fact. Then my husband surprised us with a puppy when my daughter was a preschooler and my son was a toddler. A few years later, we got a cat. I love this harmony of placement. The cat came to us as a tiny kitten, and knew instantly that she'd have two kids and a dog to contend with. True to her mellow nature, she accepted these "challenges" and became a friend to all. To us, this is the perfect order of events. Although in terms of keeping "order", it's a bit of a challenge with kids and pets and cats and houses, oh my! We have pet solutions, though!
And I can't wait to tell you about my favorite solution for carpets in our pet-friendly house! Are you interested in using STAINMASTER®™ Carpet Pet Stain Remover too? Hover over the (below) photo to click through to Target.com to buy it!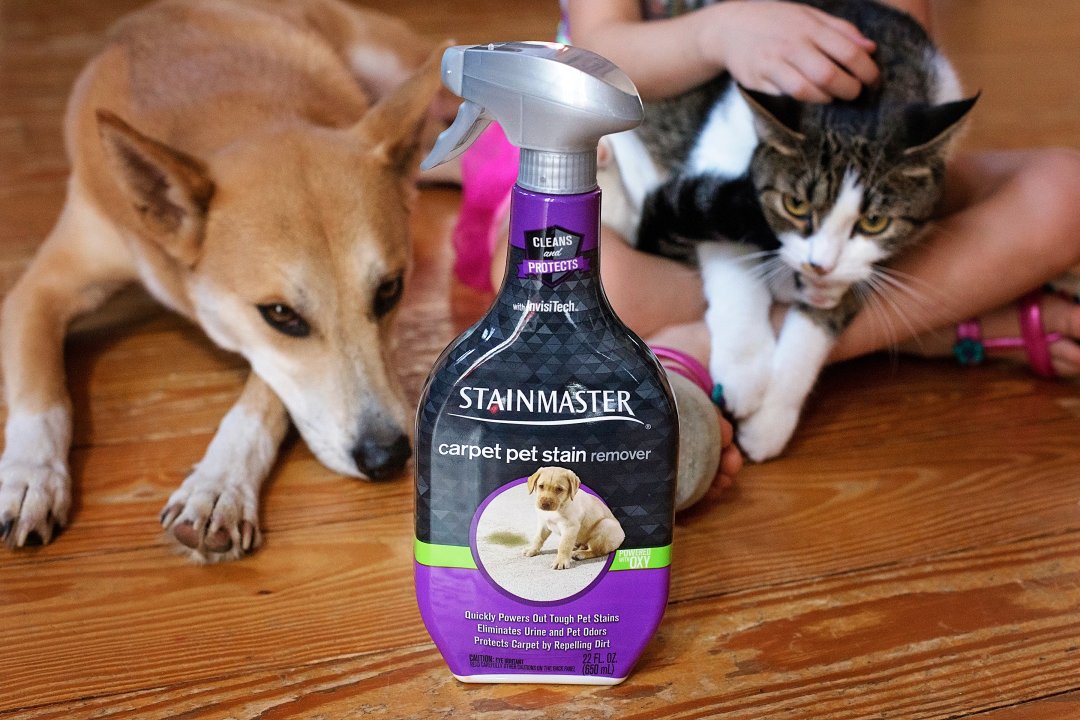 Fall is a time for both indoor and outdoor play, and it's a time for house guests. This can be challenging because we want to keep a clean house, but the kids and dog are often running through with leaves and dirt. The cat watches all the fun from inside, but has her own areas of the house to mess up. When we got a cat, on top of having a dog, I said to my husband, "..but CAN we have a clean house too??" It turns out that we CAN, but it requires a little work. And it requires all four family members to pitch in to help our furry ones. We follow these 7 ways to have a cat, a dog, AND a clean house this fall!
1 – Have a carpet solution! We have have hardwood floors and we have carpet. The carpet retains the stains and the smells threefold! When we first moved into our house, the previous owners had let their dog use one of the back bedroom carpets. We had to find a solution to really work for the bedroom because pets and carpet aren't always a perfect match! STAINMASTER lifts away tough pet stains and eliminates odors. Other stain removers might leave a sticky residue that can attract dirt over time, but STAINMASTER's breakthrough technology is designed to quickly clean on contact. It repels dirt to protect against re-soiling to keep your carpet looking newer longer. Don't forget powerful ODOR REMOVE™ technology.
This will help you breathe easy because it starts to eliminate odor within minutes! It's great for pet stains like vomit, urine, and feces, and also everyday stains, like coffee, grape juice, jelly, chocolate syrup, ketchup, dirty motor oil, and soil.
STAINMASTER Carpet Care Products are not recommended on upholstery, handmade, viscose, natural fibers (including wool and cotton), oriental, antique, or bath rugs. They are designed for use on stain resistant, nylon, polyester and polypropylene color-fast carpets and rugs. STAINMASTER cleans and protects against future stains! Here's how to use:
SPRAY: Spray product liberally and directly on affected areas.
WAIT: Wait 3-5 minutes to allow solution to penetrate the stain.
BLOT: Dampen the spot with water and blot with a clean, colorfast paper towel or cloth. Repeat as necessary to remove the stain. For best results treat stain immediately.
Find it easily in the Cleaning Aisle at Target:
Pretty awesome, right? It's a MUST in this house, along with these other tips:
2 – Regularly check your air filters. We have two pets that shed frequently, so we do it often. How often? That depends on your pets, how they shed, and what their fur is like. We try to do it every 2-4 weeks here.
3 – Regularly groom your dogs and cats. We find pet fur everywhere but we can never figure out exactly which animal left it there. So we groom both! Even better, we designate a grooming day. They don't like it, but it helps!
4 – Be vigilant with pet bathroom habits. For dogs, mostly using the outdoors, carry disposal bags with you to keep your yard and neighborhood clean. If any accidents happen indoors, consult with a professional about housebreaking your dog or if there's a medical condition. For indoor cats, keep a litter box and DON'T skimp on cleaning it. They cannot be too clean! Have one per cat, and scoop it twice a day. Change the entire thing about once every 10 days. Clean the box with water, a bleach solution, and a soapy dishwashing detergent before refilling it with new litter.
5 – Wipe down your counters every night. Use a cleansing wipe or a paper towel and cleaning solution both before and after you put food on the counter. Cats tend to walk across counters, and dogs can jump up on them!
6 – Keep your cats and dogs critter-free. Our cat is indoors only, but the dog goes out and can spread fleas and ticks to them! Use regular medication to prevent parasites. This will protect your pets and you as well.
7 – Dust and vacuum at least once a week. When you have dogs and cats, you need extra cleaning vigilance. It's all worth it in the end, though, for the affection, love, humor, and late night cuddle buddies you have.
Catch up with STAINMASTER®™ on Facebook, Twitter, Pinterest, and Instagram!
Do you have any great tips on how to have kids, a dog, a cat, AND a clean house?
Are you a dog and cat and kids family?