This shop has been compensated by Collective Bias, Inc. and its advertiser. All opinions are mine alone. #SpoonfulsOfGoodness #CerealAnytime #CollectiveBias
It should be noted, that we have a Farm Animal Waffler.
We are waffler people. It started well before marriage and kids, when we were long-distance dating, and dreaming about what it would be like to have breakfast together in our own home every day, or even just one time! What a dream! So we started giving each other breakfast-themed gifts. Christmas that first year saw maple syrups, flavored baking mixes, funny oven mitts, and maybe even a cheeky apron. Somehow, I dug up a photo of our first Christmas together. Maine, circa 2006.
For Valentine's Day, it was heart-shaped egg makers and pancake/cookie cutters.
Once we had kids, of course our breakfast repertoire expanded to included character waffles, and heart-shaped EVERYTHING.
Of course we have kids who get in on our breakfast action, even though they have different tastes. Des loves bananas, and can eat three at once, and then ask for breakfast. Scarlet will eat scrambled eggs and cereal with milk, while Des wouldn't touch eggs, and loves his cereal dry. Both kids can agree on waffles and pancakes, and have for as long as I can remember. My recipe is actually great for pancakes – Cinnamon Streusel Pancakes – but I made it for
waffles
to see how it would go.
Turns out – it's awesome!
Think pancakes and waffles topped with coffee cake crumble. That is essentially exactly what this is – with a twist. I crush Shredded Wheat and put it in the mix before baking. What does this add? Texture, flavor, crunch. Important things. I love adding Post cereals to my baking and my breakfasts, but I do like to designate them for different things. This tastes delicious.
Shredded Wheat is also a crucial part of the streusel topping.
Post cereals are the products we buy and love. We keep them on hand for our guests to kick-start their mornings, and we keep them for ourselves too! In the great theme of kick-starting a new day in a new year, isn't it amazing that cereal can be eaten at all times of the day, and for various occasions? Whether it's on or with French Toast for breakfast or brunch, whether it's snack time, or whether you want a good bowl of cereal at any time of the day or night, it's always welcoming, comforting and delicious. I find that starting each day of the New Year off right – makes for lasting change – and it sticks around.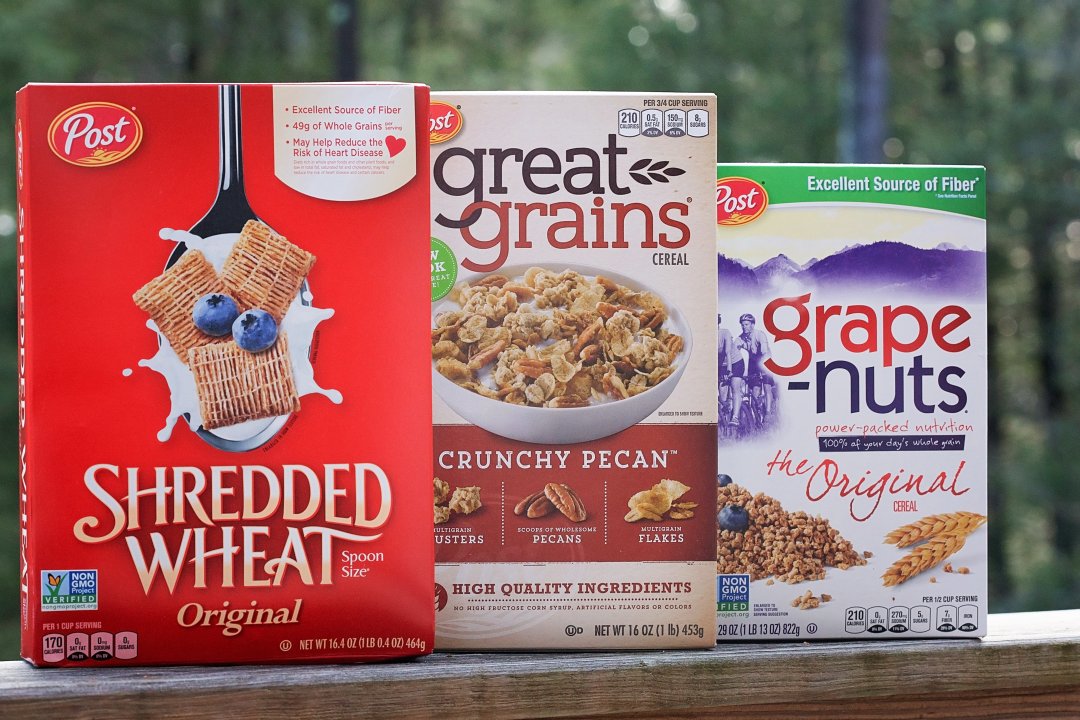 How do I love breakfast? Let me count the ways.
It's the most important meal of the day – as you have heard for years – because it's TRUE. Luckily, it's never been easier to find a healthy and tasty breakfast from Post cereals. They help you kick-start your year, and start each day off right, with whole grains that are packed with nutrients – including protein, fiber, B vitamins, and antioxidants. They have fiber that keeps you full until lunch, by preparing your body for the day. It's a new and better you with Spoonfuls of Goodness.
I have three favorites: Shredded Wheat, Grape Nuts, and Great Grains.
Great Grains bring plenty of good things together to make a great breakfast. It has 36 grams of whole grain per serving, 12 vitamins and minerals, and 20% of your daily value for fiber. Grape Nuts, my old favorite, are a morning staple with 7 grams of fiber and 52 grams of whole grain. It is versatile and I eat them with milk, with cream, or in recipes.
Shredded Wheat, though! This is a new favorite. It's packed with 49 grams of whole grain and 6 grams of fiber. Shredded Wheat Original is a classically wholesome breakfast – recommended by 9 out of 10 doctors to reduce heart diseases – and is the sole inspiration for my recipe today. Think about the topping of coffee cake – the coffee cake crumble. That is essentially what cinnamon streusel is – although it's a bit wetter with maple syrup – and a bit crunchier with Shredded Wheat.
The recipe doesn't take long to make, and if you happen to have already-cooked waffles on hand, you can bake them in the oven right with the streusel. Otherwise, you can bake the streusel separately and then top it over the waffles. I'm certain you can also spoon it into the waffle iron, but I haven't been brave enough to try that yet. Lastly, you can spoon two tablespoons of the cinnamon streusel onto your pan, and cook pancakes or French Toast right on it! Just think of the best part of coffee cake – the topping – and how you can make it better with Shredded Wheat – and eat it as a breakfast topping.
Cinnamon Streusel Waffles
Ingredients
For the Waffles:
3/4 cup Post Shredded Wheat cereal
1.5 cups flour
2 Tbsp sugar
1 Tbsp baking powder
1/2 tsp baking soda
1/2 tsp cinnamon
Pinch of salt
1.75 cups milk
6 Tbsp vegetable oil
2 large eggs, lightly beaten
For the Cinnamon Streusel:
1 cup brown sugar, packed
1/2 cup all-purpose flour
1 cup Shredded Wheat, crushed
1 tsp cinnamon
1/3 tsp salt
1 stick butter, melted
1/2 tsp vanilla
Instructions
In a large bowl, combine ground cereal, flour, sugar, baking powder, baking soda, cinnamon, and salt
Add milk, oil and eggs
Combine until smooth and wait for waffle iron to reach medium heat
Pour batter into grids and pour crumble on top of batter
Close lid and cook for 3.5 - 4 minutes or until waffles are golden brown
For the Cinnamon Streusel:
Mix together flour, sugar, butter, Shredded Wheat, and cinnamon in a large bowl until crumbs form
Sprinkle the streusel on a baking sheet and bake until brown and crisp, about 12 minutes
Top the finished waffles with cinnamon streusel and maybe berries too!
Alternatively, you can heat a griddle or pan to medium low, coat with cooking spray, add butter, and then add two Tbsp of cinnamon streusel to pan. Then cook pancakes right on it. SO GOOD!
http://tamaracamerablog.com/cinnamon-streusel-waffles-with-shredded-wheat/
So many fun and diverse recipes can be created using Post cereals – from sweet to savory and back to sweet again – and I love the endless possibilities. There is something for everyone in my family to kick-start our mornings together. Head over to your local Walmart and find these wonderful Post cereals in the cereal aisle. There's a favorite for everyone in my family:
Which one is your favorite Post cereal?